WorldGolf.com's Amazing K. shows his TravelGolf.com inferiority complex
I've long considered looking into a restraining order against WorldGolf.com's Willie K. Wolfrum. Sure, he looks harmless in that brooding photo that appears to have been taken in a local mall picture booth. But the man does show serious signs of obsession. K. name drops me more than Tori Spelling threw her dad's name around when she was trying to get a part.
Seriously, I'm in the title of one of his blogs every other week. (I am an exceedingly interesting golf personality, but you might want to throw in Tiger Woods now and then too).
In his latest, K. tries to impune my golfing ability. Yes, he downright steals my material.
K, you never cease to amuse. Anytime you want a challenge match step up to the tee and slap down some of that WorldGolf.com cash.
Several people actually challenged my right to continue calling myself the worst golf-playing golf writer in the world during my last trip to the High Sierras. This is when I dusted a
weatherman and unleashed a new weapon - the occasional straight shot.
(OK, I still fall down, but the ball goes straight).
But you can read all about that BadGolfer.com soon.
As for Arrowcreek and its visual intimidation, you can already read all about that in my story by clicking here.
You WorldGolf.com guys always trailing far behind TravelGolf for the story, discovering a destination months later.
Might be time for you to go back to writing about bread that makes you weepy. I hear San Francisco has this thing called sourdough. Maybe you can break that story.
And there you have the real story behind K's anti-Baldwin rants (who could really be anti me?) It's WorldGolf.com jealously over our great coverage here at TravelGolf.
That and the fact K. could never hope to have his name in lights (OK, magic marker, still …) In fact, no one who's ever played with him even remembers Willie K.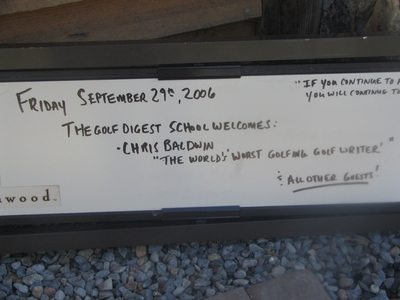 Name in lights
3 comments
Comment
from:
Larry Windsor
[Visitor]
Chris - I have had the "privilege" of playing with both you and Wolrum. Remember Coyote Moon? Did you actually finish a hole that day? I would be happy to host a challenge match between you two "golfers"? anywhere in the High Sierra you choose. If you are able to beat Wolrum, the Golf Digest School at Old Greenwood will become world famous for swing reclamation. Let me know.
Larry Windsor
2006-10-19 @ 11:34
Comment
from:
Chris Baldwin
[Member]
And world famous it shall be Larry.

You might want to do a little further research before backing that Wolfrum horse in this race to the ugly swing. Like ask Dinger, the region's PR ace, who's actually seen the wonders of my game on more than one day. You might be surprised by who he'd be putting his money on.

The scores will also be kept legit too. No Special K. math.

By the way, case in point K. He played with you yesterday and already got your name wrong.

2006-10-19 @ 15:40
Golf is a lot like sex. You don't have to be great at it to enjoy everything about it.
2006-10-20 @ 12:06
Comment feed for this post
Comments are closed for this post.