The best Mother's Day gift ever
In my opinion, there are two types of mothers: those who can't get enough of their kids, and those who can. I'm one of the second kind.
That's why I'm so pleased that my husband's Mother's Day gift this year was a spa gift certificate and a reservation for a fondue restaurant. (Yeah, yeah, I had to make the reservation myself, but one can't have everything, can one?)
But I'm going to admit, my all-time favorite Mother's Day gift was this little note that my daughter, then 6 years old, gave me last year. It doesn't even say "Happy Mother's Day" on it. It doesn't need to. I taped it to the bottom of my computer screen, a daily reminder that I am, in fact, the best golf player in the world.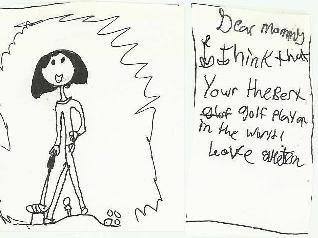 It turns out many women are as easy to please, or even more so, than I am. I conducted an informal poll of all the golfing moms I know, as well as many that I don't, asking them, "What golf-related item would you most like for Mother's Day?"
The number-one answer? A round of golf, of course. The number-two answer: golf balls. Precept Ladies and Maxfli Noodles were the top-two brands mentioned.
Oh yeah, a final tip. Can you guess what was the most popular answer to this question: "What golf-related item can you live without?" A ball retriever. "Just let them go," wrote one respondent. Hey, it makes sense. That's why they're asking for all those Precept Ladies.
5 comments
Lucky you to have such a sweet , loving and adorable daughter. Hope you have such memorable mother's day every year.
05/15/06 @ 03:38
This was both my favorite golf column and my favorite Mother's Day column (or blog) this year! Thanks!
05/15/06 @ 09:33
Jen, I think you better get your authors cap on for all the revisions to your new book.

Medalist on her qualifying round is pretty cool beans for 16 year old Michelle Wie.

Why heck, it's enough to make old Baldy go apoplectic.
And Alex will hit new records on the open ended richter scale.
June is looking like a very interesting month for MW and for the LPGA. I wonder how long they can maintain there silence and not live to regret it. Mind you, they really shouldn't let Morgan be their voice of reason.
05/15/06 @ 22:18
Comment
from:
Mothers Day
[Visitor]
Really you have such a nice daughter. A unique gift on Mother's Day is truly nice.
04/28/08 @ 02:04
Comment
from: hilarious golfer [Visitor]
what a funny post...if you search "the best mother's day gift" you get this site FIRST!!! AWESOME!!! I can't wait to read what a great golfer your daughter will be, ma'am. Swingin them irons I'm sure, after mommy shows her hows its done! Well, thank you all, especially your sweet daughter whom you can't get enough of (see: first sentence). And no, I couldn't guess "what was the most popular answer to this question:" 'What golf-related item can you live without?' "
05/03/08 @ 02:10
Comment feed for this post
Leave a comment