It's my birthday and I'll cry if I want to
Yesterday was my birthday, and I can cry if I want to.
Here?s why I want to: My husband and I cleared our schedules and got a babysitter so we could celebrate the big 3-6 properly with a round of golf. Things were going just great?I was two over through six?when disaster struck.
It came when my husband put his ball into a bunker. After hitting a fine shot out of the bunker and onto the green, he attempted to rake. Grasping the implement firmly by his right, ungloved hand, he looked down to discover that his palm now bore a strong resemblance to a prickly pear.
The rake in question, manufactured of a mysterious fiberglass substance, was apparently degrading and shedding fiberglass splinters?literally hundreds of them?right into my husband?s hand. There would be no more golf for my husband that day I can tell you.
Back at the pro shop, we explained the situation and recommended that the offending rake be severely punished. The young man behind the counter seemed highly unconcerned. ?They?re unbreakable,? he shrugged.
It was golfus interruptus.
And here?s the other reason I want to cry.
I just learned, to my dismay, that I share a birthday month with TravelGolf?s own Chris Baldwin and former president Bill Clinton.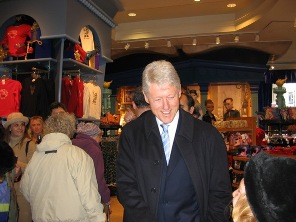 I ran into Clinton once at a toy store. I was there with my daughter. He was scoping chicks. No, just kidding. I hope.
11 comments
Dude, if I told you how many times I've had shards, splinters, chips, whatever, of rakes go into my skin, you'd be sick of my voice. I always grab rakes with the most gingerly motion, as if I were lifting a baby bird. They are weapons, baby! Happy birthday...you look great for 65.
08/24/06 @ 14:44
Comment
from:
Kiel Christianson
[Member]
Hey, it's my birthday this month too -- today, in fact. Surely this offsets the sad Baldwin coincidence.
08/24/06 @ 17:01
Comment
from:
Chris Baldwin
[Member]
Jennifer, I always knew we shared some kind of cosmic connection! I've always had a thing for slightly delusional (see using Michelle Wie & champion in same sentence) older women too.

This is perfect. You've warmed my heart as usual. Tell me you're left-handed too and I'd even give Kiel, our liberal loony college prof, a hug.


08/24/06 @ 19:19
Happy birthday! Have had the same experince with the fiberglass rakes. Can't say if the claim that they are unbreakable is true or not. But, I know for a fact that they are NOT unsinkable in pond water.
08/24/06 @ 20:22
Comment
from:
Jennifer Mario
[Member]
Sorry to disappoint, Chris, but I am in fact right-handed. Happy birthday anyway!
08/24/06 @ 21:33
Comment
from: Dave Marrandette [Visitor]
Ditto on the Happy Birthday. Sorry, don't have anything witty to say, just Congrats and many more.

P.S. How's the book doing?
08/25/06 @ 08:54
Happy Birthday Jennifer.

I am left-handed!

Most of the bunkers on the publinks courses I play at have real sand in them somewhere, you just have to dig deep under the rocks to find it!
08/25/06 @ 10:16
Comment
from:
Tim McDonald
[Member]
August must be the birth month of great minds. Mine was August 2.

I rarely use rakes because I rarely hit into bunkers. Hope your husband feels better...

08/25/06 @ 13:46
One more update...I almost threw a rake into the woods today. It had a crushed barrel where the handle is, just perfect for more porcupine-quill penetration, whatever that is.
08/25/06 @ 17:14
Help rake makers feed their starving children. Trash a worn-out rake today!
08/25/06 @ 18:33
Happy Birthday Jennifer. Hope you have many more. Really glad to see you're still writing. You always make me smile.
08/31/06 @ 19:04
Comment feed for this post
Leave a comment