Kids get a front-row seat at the US Women's Open
SOUTHERN PINES, N.C. - One thing I've noticed walking around here is all the kids. And all the kid-friendly things the USGA is doing to encourage them.
Kids get in free with a paying adult. The front row in all the grandstands is reserved only for the little ones?no more staring at the back of someone's head. There's a tent by the main entrance set up just for them, complete with a putting green, free hats, free vouchers for lunch, and perhaps most important, air conditioning.
For a mom, this is a wonderful thing.
As Marty Parkes, senior director of communications for the USGA put it, "it's a full day of entertainment for less than it costs to go to the movies."
I had my own daughter here the last couple of days. She loved collecting autographs on that free hat?she got quite a few?Annika, Paula, Michelle, Morgan?all the big names and some small ones too. ?Mommy, who?s Maria Uribe?? she asked after a finishing player took the hat out of my daughter?s hand and signed it unasked.
The family-friendly atmosphere is exclusive to this event. It started 12 years ago with Judy Bell, the first woman president of the USGA. "It's part of the DNA of this event," says Parkes.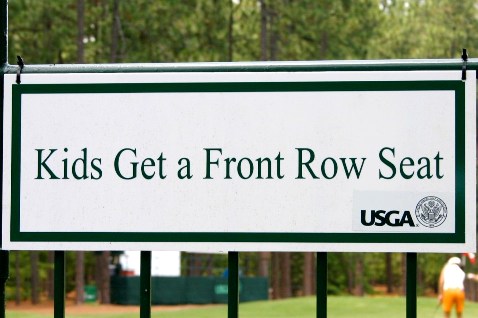 No feedback yet
Comment feed for this post
Leave a comment