Fields Open features hot Hawaiian teen -- no, not that one
Now that Annika Sorenstam has claimed the season's first trophy, it's time to look ahead to next weekend's Fields Open at Ko Olina. Why? Because you might get a sneak peek at one of golf's most talented up and comers.
No, I'm not talking about Michelle Wie, although actually, Wie will be there too. I'm talking about one Miss Cyd (pronounced "Sid") Okino?an amateur who's going to try to Monday-qualify.
Never heard of her, you say? Don't worry, you will. Just 14 years old, she's the latest in what's becoming a line of Hawaiian prodigies, with back-to-back Hawaii State Opens (the adult division) under her belt. At age 11, she won the Hawaii State Women's Match Play Championship, then set her sights on the mainland, becoming at age 12 the second-youngest ever to qualify for the US Women?s Amateur Public Links. I bet you can guess who was the first-youngest.
Okino and her famous forbear have more than their fluid swings and Honolulu hometowns in common; they're also both Punahou-educated and Casey Nakama-trained. Casey Nakama, of the Casey Nakama Golf Development Center at the Olomana Golf Links in Honolulu, was Michelle Wie's first coach. Under Nakama, Wie went from a big-hitting 10-year-old to the youngest female, at age 12, to Monday-qualify for an LPGA event.
Say what you will about Wie's performances of late?back when she was still hitting balls for Nakama, there was nothin' wrong with that swing.
So where will Okino's swing take her?
On this question, Nakama hedges his bets a little: "She'll definitely become a good college player," he says. "To continue to be a successful LPGA professional is yet to be determined since she only just started her first year in high school."
Nakama has been working with Okino for almost eight years, since she was just six years old. We saw what he did for Michelle Wie. It'll be interesting to see what he can do for his current pupil.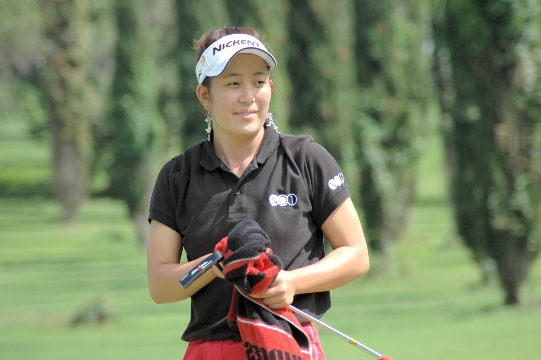 Will Okino make it into the field at the Fields Open? (Photo courtesy 808Golf.com)
9 comments
I don't think she will make it, but Stephanie Kono who is also in Monday Qualifying has a much better chance to qualify.
02/17/08 @ 22:29
I take umbrage with the use of "hot" to describe a 14-year old. If she's on a winning streak (that kind of hot), fine. It doesn't seem to have much relevance beyond titillation. "Talented teen," if alliteration is the goal, would seem to be more appropriate.
02/17/08 @ 23:01
Comment
from:
Chris Baldwin
[Member]
RonMon, I take umbrage at your belief that anyone gives a flying hoot what you take umbrage at. And it's Mario. You know she's only using hot in a pure, nice way. She's Mario. Let's see some proper respect.

Are the guy who called up Mr. Rogers and complained about his show too?

Finally, you might want to look over your own blog history. You're fortunate most high principals (especially those in Buffalo) don't know how to use the Internet.

"Bush-league LPGA ..." to name just one:

http://www.travelgolf.com/blogs/ron.mon/2007/11/30/bush_league_lpga_website_trumped_by_pga_

You don't mess with Mario and get away it. Not when there's any chivalry left this world.




02/18/08 @ 00:36
Oh, Christopher, thank you again for showing me the error of my ways. If not for the likes of you, I would continue on, encumbered and blinded, bumping into the world at large. Do have a wonderful day. Mrs. Mario, please accept my apology for doubting the sincerity of your descriptive "hot."
02/18/08 @ 07:28
The real question is, how are Ron Mon and Chris coming along with their Michelle Wie Fields Open blogs?
Will you guys be writing blogs in anticipation, or are you waiting to find out how she is playing before commenting?
02/18/08 @ 08:28
Comment
from: Mike [Visitor]
I feel another Mario is already writing a book about Okino. Just in case. The last one worked out so well. I hope Mario doesn't curse this one!
02/18/08 @ 11:03
Comment
from: Brooklyn [Visitor]
Come on, we've done the 13,14 yr old Hawaiian prodigy thing. Can't you find us 7 or 8 yr old ready to take on the pros to hype? Lord knows we've not learned anything from the debacles currently unfolding before our eyes.
02/18/08 @ 12:53
Comment
from: Art [Visitor]
Go Michelle
02/21/08 @ 02:01
Comment
from: Joe Cool [Visitor]
During her Hip-Hop dancing at Stanford, Michelle sank into the quagmire of obscurity never to be heard from again.
03/03/08 @ 13:18
Comment feed for this post
Leave a comment