Can Athleta change the way you look at golf?
I just got an email in my inbox that asked me to let Athleta.com "change the way I look at golf."
I'm not sure how Athleta?a sportswear company I've always associated with yoga and rock climbing?knew how I looked at golf in the first place, but I was intrigued enough to follow the link to see where it took me.
Well, I can't say my perspective on golf has undergone any major modifications, but I can say I'm glad I opened the email. Mainly because it informed me of Athleta's new ladies golfwear collection.
Being the fashionista that I am, I don't like to leave the house?even just to play golf?without looking good, and that's hard to do in the fuddy-duddy stuff that line the shelves at most pro shops.
But I like the look of Athleta's polos (nipped at the waist, not boxy) and capris (sporty, not frumpy). My only problem is that the collection is way too small.
I'd be remiss not to share the link with the rest of you ladies out there who like to look hip on the course. Here ya go.
Keep the golfwear coming, Athleta. And feel free to spam me anytime.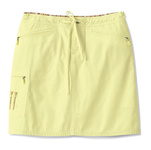 Melon-green skort with tee holders. Cute!
1 comment
Boy (or girl), I wish we men had a line of apparel that made us feel both sexy and secure. Glares of envy at you, girlfriend!
02/20/08 @ 06:52
This post has 2 feedbacks awaiting moderation...
Comment feed for this post
Leave a comment