Lorena Ochoa image stirs cartoon controversy: Who knew golf could cause such unrest?
At least four people were killed, cars burned, mobs rioted, and death threats were issued following the publication of a religious image deemed offensive… No wait, I'm thinking of the wrong cartoon controversy.
Sorry, let me start over. Several people complained after an image of Lorena Ochoa appeared superimposed over the Virgin Mary in a Colorado AvidGolfer Magazine article last week.
The image was removed from their Web site and Editor Jon Rizzi immediately issued an apology. "To illustrate our support of her, we selected an iconic image that suggested her transcendent qualities," said Rizzi. "We never intended to insult anyone."
Seeing as how this incident followed so closely on the heels of the infamous Kelly Tilghman "lynch him in a back alley" remark and the firing of Golfweek editor Dave Seanor, damage control was probably the pragmatic call. Speech might be free in this country, but sometimes it'll cost you big.
The lesson to be learned: in golf, as in life, never publish anything that anyone at any time might be offended by. Oops?there goes Chris Baldwin's blogging career!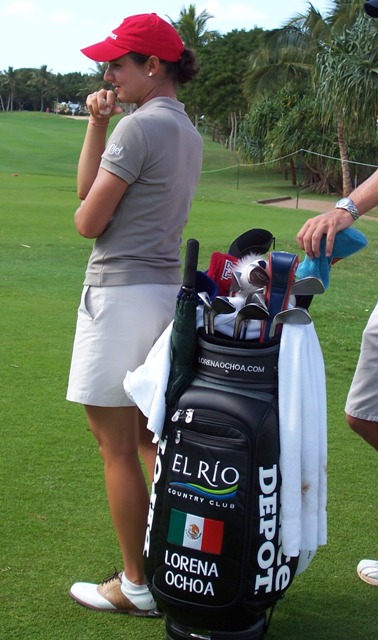 Ochoa found herself at the center of controversy last week
5 comments
Comment
from: Booger [Visitor]
Michelle Wie: The Making of a Champion.

ROTFLMFAO!
02/25/08 @ 14:55
Comment
from: John [Visitor]
It's a work in progress, don't ya know - the making of that champion I mean. Like you, ROFLMAO every time I get reminded that somebody actually did write that book.
02/25/08 @ 21:22
Good thing that Booger and John read the blog on Ochoa. Who doesn't want to comment on that? Do they have their own language?
02/25/08 @ 22:43
Man oh manechevits - Will SOMEONE please help the 'monster'?? He's starting to become an example of WHY free speech should be supressed! ;)

Jen, interesting post...glad you were able to write it in such a "repressive" environment! ROTFL, in case the 'mon' doesn't get it, that was irony...or even satire!
02/26/08 @ 12:08
Comment
from: Jim [Visitor]
This Jon Rizzi guy at Colorado AvidGolfer must have been on the golf course when that decision was made. Was anyone fired over this dumb move like that incident at Golfweek when they put a noose on the cover? Sounds like somebody is lacking in common sense.
02/24/09 @ 22:28
This post has 1 feedback awaiting moderation...
Comment feed for this post
Leave a comment