LPGA logo reaction roundup: It's new but is it improved?
Last October the LPGA unveiled their new logo. Personally I'm a fan, mainly because anything had to be better than the old one.
The "swinging lady" in the old image looked suspiciously unserious, more like a weekend golfer who gets tips from her boyfriend than a professional athlete. As any pro will tell you, she had some serious swing flaws, like a reverse pivot and an incomplete follow-through. Also, bad hair.
The new one, designed by SME, is modernized in every way, from the bold colors representing the LPGA's "international membership and global business," to the decidedly futuristic Star Trek lettering. Most importantly in my book, it captures a powerful, fluid swing in motion. When it was unveiled to the LPGA membership, the response was an overwhelming "That's us! That's us!"
But I was curious to see what kind of reaction it was getting from other LPGA watchers. So I googled around and was surprised to discover that this is one logo change that has not gone unnoticed?bloggers have fairly strong feelings about it.
Eric J. Barzeski at The Sand Trap may have put it best. The old logo "featured a hairdo not seen since 1982 and a barely mildly sexist look: breasts and a thin waist set over mothering hips." But Barzeski faults the new logo on a technicality: he ran the numbers and discovered that at a ratio of 35.48 pixels per inch, assuming the golfer stands 5′5″, the golf club would measure 49.27 inches?1.27 inches longer than the maximum allowed length of a club! He doesn't miss a trick, that Eric J.
On one point, everyone agreed: the old yellow and green logo, pictured below on the left, was drab, outdated, and universally disliked. But responses to the new one vary: Brand New blog awards it a "bogey," questioning its similarity to Greg Norman's shark logo. Others think it's too abstract, like looking at a Picasso?where's her neck?
But whether the new logo represents an improvement or not, a new problem emerges: What about the PGA Tour? With those groovy tight bell-bottoms and pointy-toed platforms, "swinging man" looks like he dances at the same disco as the old LPGA lady. Isn't it time for a style update, fellas?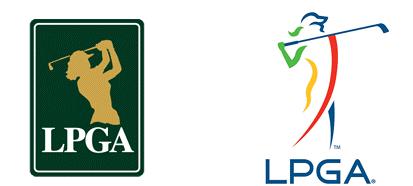 LPGA logos, old and new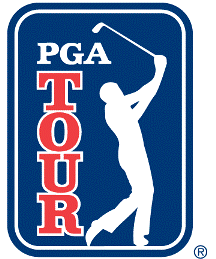 4 comments
Comment
from:
Kiel Christianson
[Member]
LPGA: New is also improved (despite the long club).

PGA: Just looking at it seems to have the effect of enlarging my prostate. Truly God-awful.
02/28/08 @ 16:36
Comment
from:
Steve Wozeniak PGA
[Visitor]
The PGA Tour should update the logo since the position is horrible. It's a big block with the resulting hang back. Notice how the left arm is above the right arm!!

Time to GET REAL and get a decent swing for the logo!!

Steve Wozeniak PGA Director of Instruction Bellevue/Lake Spanaway Golf Courses www.stevewozeniak.com
02/28/08 @ 17:35
Comment
from:
Kiel Christianson
[Member]
Right, Steve! Unless the guy is left-handed...maybe...
02/28/08 @ 18:31
It's a great new logo. I expect the PGA will come up with something equally impressive.
02/29/08 @ 16:16
This post has 1 feedback awaiting moderation...
Comment feed for this post
Leave a comment