Tralee Golf Club is favorite of Irish tour operators
It may not be as famous or as old as Ballybunion or Lahinch or as high-profile as newer Irish links like Doonbeg, but Tralee Golf Club, in Barrow, County Kerry can go toe to toe with any of them.
Tralee was built in the early 1980s, and was the first course outside the U.S. designed by Arnold Palmer. The ocean views are spectacular, and the shot value is exceptional.
A couple of years ago, I dubbed Tralee as the "best Irish links you've never heard of." Of course, I was speaking of my American readership.
The Irish were already well-acquainted with this relatively young star glittering in the bright constellation of courses on the Emerald Isle.
Golf tour operators, especially, have been taken from day one with Tralee, having only to convince their customers that it is one of those must-play links. And this year, Tralee was voted Golf Course of The Year by the Irish Golf Tour Operators Association (IGTOA).
And rightly so, as the course recorded over 12,500 visitors in 2006.
So if you're heading to Ireland, do your homework, listen to your tour operator, and do not miss this gem.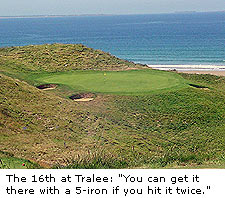 The 16th hole at Tralee Golf Club is just one of 18 truly great holes at this relatively new yet still classic Irish links.
2 comments
Jedes neues Lebensjahr müssen sich erfolgssichere Autohalter über minimale und enorme Verluste aufbrausen, die ohne eine passende PKW-Versicherung unmoglich bezahlbar wären.
01/14/11 @ 11:06
I feel that may be a captivating point, it made me suppose a bit. Thanks for sparking my considering cap. Every now and then I am getting so much in a rut that I just feel like a record.
01/14/11 @ 23:58
Comment feed for this post
Leave a comment