Goodness gracious, great balls of color!
Is it just me, or are golfers' balls turning different colors?
OK, that didn't come out quite right. Let me explain.
Remember back in the 1970s, when tennis balls turned from white to yellow, and golf balls began to follow suit? (It may have been prior to the 70s, but this is the earliest of my recollections. Old people, feel free to correct me.)
Whereas yellow tennis balls became the norm (now "optic yellow"), however, yellow golf balls were about as popular as yellow toe nails. (Ewww…)
Today, thanks in part perhaps to endorsement contracts with high-profile LPGA players like Paula Creamer, and splashy Euro-chic fashions sported on the PGA Tour by guys like Ian Poulter, colored golf balls appear to be making a comeback.
As an example, here's the adorable Ms. Creamer blasting her pink orb out of a fairway bunker:
Crospete Sports recently introduced the Chromax Golf Ball, which comes in a variety of rather shocking metallic hues. Just take a gander at these: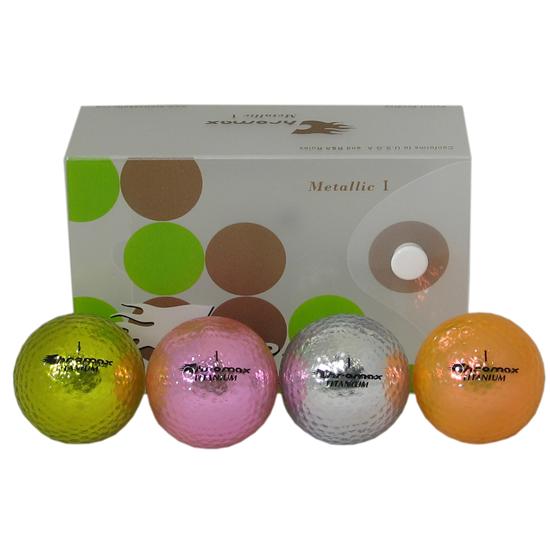 For golf purists, these things might be an abomination. However, as soon as a sample pack arrived at my house, my 4-year-old son and 9-year-old daughter began fighting over who would get what colors.
According to the company, they are also having trouble keeping the things in stock at pro shops frequented by affluent, middle-aged, female golfers, not just golfing grade-schoolers. The balls have also proven popular with the PR set, who order various colors by the crate-load custom-printed with clients' names and logos.
Now, I sort of doubt that these shiny balls are going to catch on like optic yellow tennis balls. But if you do use them, I be you won't have any trouble telling which ball is yours.
Unless you're playing with or in a group of affluent, middle-aged, female golfers…
2 comments
I have noticed while playing with different colored golf balls (pink and orange) that white is still the most visible out of the rough.

Colored golf balls are meant to match the outfit, nothing more...
04/04/08 @ 14:52
Comment
from: Oliver Sudden [Visitor]
Jerry Pate played an orange ball in his heyday. He was the only prominent player that played a non white ball.
04/11/08 @ 21:42
Comment feed for this post
Leave a comment