SMT drivers take Southern Hemisphere Long-Drive tourneys by storm
The long drive circuit has become a legitimate and dynamic sub-culture in the world of professional golf. And its popularity has spread remarkably fast around the world over the past decade.
The long-drive competition has, aside from giving golf fans jaw-dropping thrills, opened up a new world stage to some equipment companies that cannot afford to get their names on PGA Tour players' bags.
One such company is SMT Golf, headquartered in Oswego, Illinois. For years, I've been writing about this family-owned company and the high-quality clubs it produces.
This year, in yet another example of how small companies can build powerful drivers, SMT's big sticks were wielded by long-drive champions in New Zealand and South Africa.
Kiwis Philis Metti (SMT Encore) and Aaron Garnett (SMT Spectrum) won their respective divisions, while perennial favorite Davyn Nola (SMT 455 Deep Bore) was edged out for the men's open title, despite the longest drive of the entire competition (332.5 yards into a howling headwind).
What might be most remarkable of all about the New Zealand results, SMT was the only company with three different models in the mix.
In South Africa, 2008 South African Champion Rynardt Combrinck dominated the field of the South African Long Drive Championship with his SMT 455 Deep Bore in hand. Combrinck also set a driving distance record for his country of 476 yards. SMT Golf also captured 3rd, 5th and 7th positions in the Championship, along with having an astonishing ten of the sixteen finalists using an SMT branded driver.
SMT founder and president, Mike Tait was rightly proud of his clubs' showing: "SMT Golf had another great year in South Africa with five other Champion titles, six second-place finishes and five third-place finishes all season long, and when you think of the thousands of golf club choices available to these competitors, it is simply amazing that SMT continues to be at the top, year after year".
Indeed. And it goes to show you that you don't need big brand names to get big drives.
Next time you are in the market for a new driver, it would be worth your time to do your research and explore some of the offerings from smaller companies. Doing so could save you money and net you a few more yards off the tee.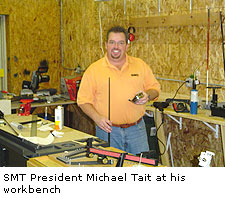 No feedback yet
Comment feed for this post
Leave a comment