Golf shoe technology has improved as much as club technology
Everyone talks about how golf clubs have improved so dramatically over the past 30 years. And rightfully so. The 460cc titanium drivers and the branding-iron-esque putters of today hardly look like they belong to the same solar system as the 160cc persimmon 1-woods and Bullseye flatsticks of yesterday, much less the same sport.
But for some of us, new-fangled clubs are sort of old news. We almost take all the whiz-bang technology for granted.
One major technological advance I don't take for granted, though, is the modern-day golf shoe. It was just 16 years ago I finally caved in and bought my first golf shoe. Before that time, I had steadfastly refused to wear golf shoes. They were uniformly hideous to look at and torturous to wear. And that first pair produced blisters and sore feet within the first four holes.
That first pair of shoes brought to mind my grandfather's golf shoes: leather-soled and steel-spiked, with no padding in the sole or anywhere else, no arch support, and not waterproof. Every time my grandpa pulled on his old shoes, it looked like he had to break them in all over again, and by the end of walking nine holes, he was wincing and limping.
Today, thankfully, many golf shoes have incorporated the standards of other athletic shoes: padding, support, top-quality materials, waterproofing, and even some very slick, stylish designs.
One of the best new examples of this shoe technology is the Nike Air Zoom Elite II ($155). This is the first Nike shoe I've tested that is perfectly comfortable right out of the box. I literally took the wads of tissue paper out of mine, laced them up, and walked 9 holes carrying my over-loaded bag. No blisters. Not even a hotspot. And no sore feet the next day.
To be honest, it would be nice to find a pair of dress shoes that I could say the same thing about.
So if you're one of those golfers who has switched drivers three times in the last six years, but you're still wearing your old saddle shoes from 1995, do yourself (and your piggies) a favor, and check out some of the new footwear technology.
Better yet, ask Santa.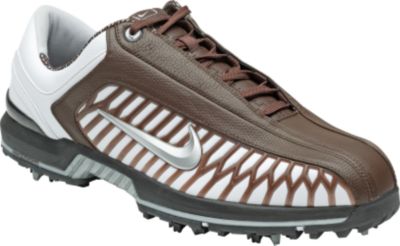 The Nike Air Zoom Elite II shoe is comfy right out of the box – and sharp-looking, too.
4 comments
Nice... However, I think the Adidas golf shoes with the signature "powerbands" are the best golf shoes on the market.
12/04/08 @ 02:55
My turn to poach...I've a Nike Zoom v. Adidas Tour 360 II blog coming up. The revelations will spin the world right off its axis.
12/04/08 @ 05:56
Every great advance in natural knowledge has involved the absolute rejection of authority.
12/12/10 @ 01:28
Comment
from: sports massages while pregnant [Visitor]
We love your providing these details for folks trying to find out more on subject areas similar to this.
Your blog was well crafted and very well investigated,
that is certainly very much valued. I am definitely looking for new websites to follow and read frequently. http://chilp.it/0b4a130
10/08/17 @ 12:23
Comment feed for this post
Leave a comment