Someone mail me a Sophie Sandolo golf calendar!
Okay, so maybe I'm the last male golf aficianado on the planet to have heard of Sophie Sandolo, but I am the first blogger to report on her 2005 calendar here at TravelGolf.com's Blog Central (which makes me a little like the smartest kid on the short, yellow bus). Sandolo, a 28-year-old Italian swinger (sorry, couldn't resist) on the Ladies European Tour, could be the greatest thing to ever happen to women's golf. Ever! Or, hell, maybe not. One way or the other I think it's my duty as a blogger to at least keep the conversation going.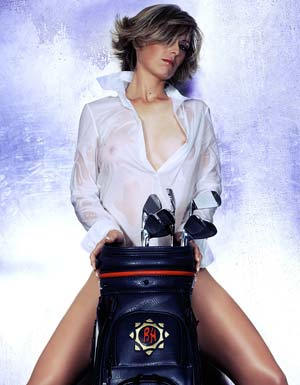 7 comments
See also (in french) : http://golf.over-blog.com/article-237997.html
04/20/05 @ 03:17
Comment
from: Tony Wallin [Visitor]
you can get one on e-bay!
04/20/05 @ 20:56
There are three available right now on US ebay.
04/21/05 @ 19:06
can't u send me free?

06/21/05 @ 14:57
Comment
from: maurizio de vito [Visitor]
new sophie sandolo calendar 2006 on
www.sophiesandolo.it
12/16/05 @ 03:22
can you still get a 2005 calendar of Sophie Sandolo?
12/29/05 @ 15:31
You can find the Sophie Sandolo 2006 Calendar for purchase now at http://www.sophiesandolo.net
01/01/06 @ 09:06
Comment feed for this post
Comments are closed for this post.