Thongchai Jaidee of Thailand soaking up Augusta aura at the Masters
Our old friend Bangkok Al may have slipped off into retirement (bidding adieu with this epic farewell blast at Rush Limbaugh), but I suspect he's somewhere down in Thailand right now, sipping a Scotch and following the Masters action like a hawk.
Give Al credit for bringing to light golfer Thongchai Jaidee of Thailand. Heading into the second round, Jaidee was sitting at T68, 6 over. Not a stellar Augusta debut, perhaps. But the fact that he's there at all is a great story.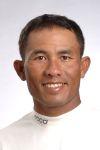 As Vijay Singh told reporters Thursday, "I was talking to Thongchai Jaidee the other day. He just could not believe, he was in awe of the place. I think every player that is coming over here for the first time just can't believe how beautiful or perfect this place is."
Click here to read more about Jaidee's story.
5 comments
I've been following Jaidee for a little while now, and his game is impressive, especially if you consider where he came from.

He seems like a great guy who is truly genuine. I think he's just got the Augusta jitters.
2006-04-07 @ 11:13
Comment
from: Hoyt Decker [Visitor]
Well, if Jaidee can make the cut, maybe he can get David Duval to carry his bag for rounds 3 and 4. WOW, is Duval ever driving over a cliff Thelma & Louise style!
2006-04-07 @ 12:12
Jaidee got camera time yesterday. That's enough to rattle anyone's chain! Where he's no threat, this is definitely good experience for him.
2006-04-07 @ 14:32
Unfortunately, Thongchai missed the cut. The tricky greens gave him trouble. But here's what I heard in the days leading up to the Masters. Thongchai was actually planning to stay at a Buddhist temple during the tournament. Why? Because he's very comfortable sleeping like a monk, on a concrete slab. From what I hear, Thongchai likes sleeping on a floor than in a bed! But as it turns out, he stayed with his Thai friend Charlie, the owner of a very famous Thai restaurant in Atlanta. Incidentally, the sportswriters in Bangkok all say Thongchai is a great guy -- very genuine and humble, despite the fame and wealth he's acquired as one of Thailand's most famous and accomplished athletes.
2006-04-08 @ 09:59
Correction: He prefers the floor to a bed.
2006-04-08 @ 10:04
Comment feed for this post
Leave a comment