Tiger Woods says jump, Tim Finchem says, "how high?"
I can't tell you how shocked I am, how astonished that after months (or more?) of saying no to drugs testing, PGA Tour Commissioner Tim Finchem now says the topic will be addressed at the Tour's policy board meeting in November.
Funny, isn't it, how a guy like that can change his tune so much not long after Tiger Woods came out in favor of testing.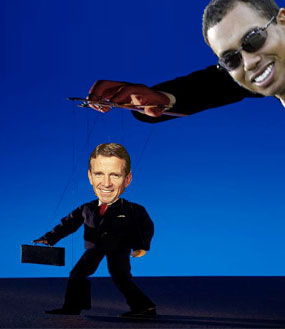 If I were Steve Williams, I'd be worried. I can see a day where Finchem spends Thursdays-Sundays carrying Tiger's bag.
Still, you have to feel good about the move, if not Finchem's motivation. I'd be very surprised if none of the guys on the PGA Tour haven't - at the very least - strongly considered 'roiding up. No, not for distance off the tee, necessarily, but, as I wrote here, for an artificial edge on recovering from those nagging aches and pains and injuries that can hobble a golfer late in the season. Awareness of golf fitness has changed the game for the better (imagine if Lee Trevino had never been hobble with back troubles, if Billy Casper hadn't carried around that extra weight). With that in mind, the potential temptation to take it to the next level illegally via steroids is just too much to overlook.
(To change the subject: How cool is Jesper looking in this stingy brim lid at the Candian Open!?)
7 comments
BTW, sounds like Finchem's got his priorities straight.
2006-09-07 @ 18:38
Hmmm, well Tiger IS the Tour...the numbers don't lie, and I ain't talking about under par...I am talking about purses. And Tiger's thoughts were on the "money" regarding roids. Can there be any question that there are guys down the line in college and elsewhere looking for "the edge" to get on the PGA cash train? Finchum's original thinking was provincial or shortsighted and I am sure that when Tiger's words hit the street, not only was it Tiger talking, I am sure others agreed with his view...do it now, not after a violator wins a tournament. The old adage "cheaters never prosper" hadn't met Barry Bonds.

I wonder though about the side effects of roid rage, and how that would "help" a golfer? Mental stability is key on the course under pressure, and we don't see alot of strength out there when lined up against Tiger, do we?
2006-09-07 @ 19:05
Comment
from: Kevin Nichols [Visitor]
Ghet Rheel writes "BTW, sounds like Finchem's got his priorities straight."

=================

Which priority is that? Protecting the integrity of the game (if that were the case, he wouldn't have waited so long to take his head out of the sand), or brown nosing Tiger?
2006-09-08 @ 03:24
Comment
from: John Rogers [Visitor]
What is with Paulsons hatred for Steve. If anyone is a bonifide Ahole it is Paulson. Does he have some proof that Steve is doing illegal drugs or just jealous of the fact that Steve carries Tigers bag and makes a ton of money,, what a jerk!
2006-09-08 @ 08:09
Comment
from: Oliver Sudden [Visitor]
What must scare Finchem and the empty suits at PGA tour headquarters is Tiger might decide to have about 10 more "Target World Challenge" type events and tell the suits they can stuff their tour. And don't think for one minute he couldn't do it. Like another poster said "Tiger is the tour". Without him the TV boys would start snoring when Finchem came around. The other players would quickly get on board if they wanted to maintain their lifestyle and pay their alimony. And he might do it because to build his learning centers other stuff he needs a lot more money and he has got to be thinking why should I support these guys ? Consider the Ryder Cup. If I were a player I would say "if 100% of the money goes to charity I will play, but if people are making millions and we professional players get zip forget it." Tiger said the Ryder Cup should make a ( big ) donation to the players' charity. This idea of getting professional athletes to "play for your country" so we can make millions ain't going to fly too much longer, trust me on that. So Tiger may say I think you need to test for drugs or you need to test the clubs. And he means "or else".
2006-09-10 @ 02:59
"Oliver Sudden" has it right. Without Tiger the PGA would be battling for fringe TV time on fringe networks. Finchem "gets it". The LPGA should be making the same VIP accomodations for Wie - they'll need new leadership for them to "get it".

Hey, its about the TV revenues, stupid!

TV revenue is about what the audience tunes in to - not what you want to shove down their throats. Nielson has spoken... the people want Tiger and Michelle - deal with it, or be steam rolled by it.

They should have "Purist's" tour with no TV cameras and no purses for all those who are offended by the "filthy lucre" aspect of the game.
2006-09-10 @ 12:58
Comment
from: jbelkin [Visitor]
Technically, Tiger is his boss - along with all the other pros - unlike commissioner of other sports where the players are labor - here the players decide who runs the operational side of the Tour. They might not like everything but if enough don't like something, it gets changed. It's the EXACT same in any real business - if one of the division Presidents wants to move the division to another state, if it's presented appropriately, the board will probably agree - same here.
2006-12-03 @ 19:02
Comment feed for this post
Leave a comment