Galgorm Resort guests can play fine Irish parkland golf, shoot clay pigeons in the same day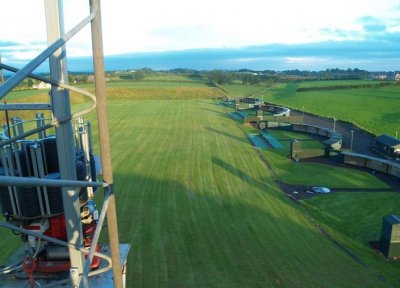 GALGORM, County Antrim, N. Ireland – As my check-in day for Galgorm Resort & Spa neared, I was having a look over the resort's web site and noticed that, in addition to golf at nearby Galgorm Castle Golf Club, guests can take a 10-minute drive to Carnview Farms Clay Target Shooting Complex.
It's not uncommon for country manors in this part of the world to offer shotgun sports and even game shoots, but for shooting enthusiasts, Carnview is a real treat. Owned and operated by James McKeown, it hosted the 2007 National Skeet Home International and continues to host competition shoots.
As it'd been a number of years since I'd done any shooting, I took a lesson with Carnview Farms instructor Hugh Simms. He's extremely friendly and has a disarming way of teaching basic technique and getting you to relax. Like a good golf instructor, Hugh identifies your natural tendencies and ingrained technique flaws and tailors his approach accordingly. Most of all, though, he's just a fun guy to hang out and gab with.
Carnview Farms offers all major disciplines of clay pigeon shooting. They're open Thursday, Friday and Saturday and other days by appointment, and are happy to host large groups. Going after both clay pigeons and birdies in the same day is a great combo for a stag outing or buddy trip.
Forgot to bring a shotgun along on your Irish golf trip? That's the best part, you and your buddies can still shoot, just as part of a group or individual lesson. Highly recommended.
Following a morning session at Carneview Farms, I moved on to Galgorm Castle Golf Club for 18 holes of parkland golf. Playable and extremely picturesque, Galgorm Castle G.C. …. Ah, stay tuned. I'll have more on that course (not to mention Galgorm Resort) in a coming post.
1 comment
Ive been golfing in South Africa where u can watch some wild animals very closely-very adventurous, by the way, great review
2012-11-15 @ 08:23
Comment feed for this post
Leave a comment