Katie Couric for The Masters: A Fair Deal for CBS and NBC
We've seen this before, when Letterman went to CBS and NBC got nothing in return. CBS is about to get a terrific reporter
="http://www.gabbyattic.com/truepix/katie%20couric.jpg" alt="Katie Couric" title="She's Worth Augusta!!" />
in Couric
, to replace a guy in Bob Sheafer,
who never really wanted the job long-term. So that NBC does not get screwed again, it's time to send the Masters to NBC, for a number of reasons.
Reason # 1–Lanny Wadkins.
Kiel Christianson discusses this one at length, so I won't go overly into detail. Suffice it to say that Wadkins is a menopausal emotional blob whose pithy vocabulary drags every colleague down, as they attempt to cover for his run-on sentences and inability to take himself out of the equation. DUMMY, it's the tournament, not you, on center stage.
Reason # 2–Johnny Miller.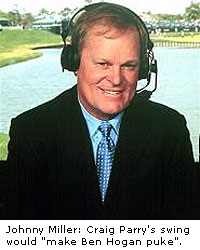 Like Lanny, he never won the Masters. However, he is the main guy at NBC, unlike Lanny, the second buffoon to Jim "Did you know Fred was my college roommate" Nantz. Jim and Johnny would be great, but NBC's number two, Dan Hicks, is almost as good as Nantz. We need Johnny to right the ship. Perhaps Gary McCord would jump to Johnny's ship…then we'd have some kind of telecast!
Reason # 3–Do You Need Any More? That's all I have, and all I need. Blogs are supposed to be brief.
5 comments
Phil Mickelson wins the Masters and gets a kiss from his 15 million dollar wife -- Katie Couric. The three small kids hugging their dad was great TV. Lefty is the man, for now.
04/09/06 @ 21:12
"NBC got nothing in return"
What are you talking about, money or Conan?
04/10/06 @ 05:30
Paaaleeeeze, Keep Gary (The Mouth) McCord away from the Masters. I think a great week is when McCord plays on the Champions Tour, say in California, and doesn't make the cut for the weekend. And The Tour is somewhere on the East Coast, so it is not convenient for him to go cross country to be a Common-Tater.
04/10/06 @ 05:34
hey john d....
we get it...you dont have a sense of humour. God forbid we make the masters entertaining.. i bet you'll rather have hootie johnson up in the both...its all you old people who bring golf down...do us a favour and find other ways to get away from your wives.
04/12/06 @ 04:59
Katie Couric is cute & perky but she has a lot of work to do to replace a journalist.
04/18/06 @ 13:32
This post has 1 feedback awaiting moderation...
Comment feed for this post
Leave a comment