The Michigan Road Day Three: The Mountain Ridge course at Crystal Mountain
Long before the world heard of Tom Doak, Bill Coore, or Jim Engh, and long after the likes of Walter Travis, Donald Ross, and Seth Raynor had worked their magic on the land, golf courses were designed by local folk who exhibited no pedigree for the craft. They used simple logic, fitting the course to the available land, with an emphasis on simplicity. Fortunately for the guests of Crystal Mountain a certain Bill Newcomb was handy enough to build a golf course that challenged and satisfied at the same time.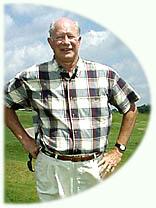 WILLIAM NEWCOMB
Mountain Ridge moves across a meadow for a time, then climbs high into the hills that loom over the resort. It is the time spent in these hills that is most memorable, although the lower holes might provide the greatest satisfaction and reward. The conditioning at Crystal Mountain is more than satisfactory, adding to the experience.
Our suite in the Kinlochen building, which triples as home to the pro shop and a delightful pub/dining room, was a marvel. A spacious great room was bordered by two sleeping quarters, a kitchen, and a fireplace. Internet access was absolutely free, although surprisingly, I could not upload my blog entry (which explains my one-day delay)!
To whet your appetite, here is a quintet of images from a rainy day at Mountain Ridge. Although my rain shirt soaked through and my rain gloves dyed my hands a lovely shade of black, the experience on the course was memorable in a damned good way:

LOCAL GALLERY MEMBER. QUITE POLITE. KEPT THINGS REAL.

THE FORCED CARRY IS A RARITY AT MOUNTAIN RIDGE. A RARE THING FOR A CHAMPIONSHIP COURSE (AND ALSO A GOOD THING.)

EVIDENCE OF THE SAND FOR WHICH NORTHERN MICHIGAN IS KNOWN.

FOCAL TREES DISTRACT ATTENTION FROM THE FAIRWAY ON AN ALL-TOO-FREQUENT BASIS. FORGET THE ARBOR; FOCUS ON THE GRASS.

THE PERFECT CONCLUSION: A COMBINATION OF ALL THAT IS GOOD ABOUT HIGHLAND MICHIGAN GOLF.
Crystal Mountain has plans, circa 2010, to open a third course, vested in the traditions of links golf. Here's hoping that the aforementioned Messrs. Doak, Coore/Crenshaw, or Engh receive consideration for the job. The new course will join an enhanced spa experience, the next big thing at Crystal Mountain. In the meantime, between Mountain Ridge and Betsie Valley courses and all the fun activities in the shopping village, fitness center, water park, and natural spaces, there's plenty to do at Crystal Mountain.
Next: Legend and Cedar Creek courses at Shanty Creek.
1 comment
Comment
from:
Brandon Tucker
[Member]
Got rained out at Legend after 4 holes, but be sure to let one rip off the 1st tee - steep, downhill par 5! That's what Northern Mich is all about!
07/11/07 @ 00:58
This post has 1 feedback awaiting moderation...
Comment feed for this post
Leave a comment