Lendl Soup at The Ione D. Jones/Doherty Championship
Leslie Fiedler, the late and great literary critic and professor at SUNY-Buffalo, published a tome late in his life titled "Fiedler on the Roof." It had nothing to do with Tevia; it was simply a title waiting to happen, with the roof representing the point before dying. Funny story, Leslie and his wife were once stuck near the roof on a balcony as a fire burned their house (they were rescued.) They used a doctored image on their holiday card the next year.


ISABELLE LENDL ABOVE
Anyhoo, when I read the results of the recent Doherty Championship from Florida, Lendl Soup just happened. Isabelle Lendl won the title over two-time USGA Mid-Am champ Meg Bolger. Bolger is on the 2008 Curtis Cup team, so she can play with the young'uns in addition to the mid'uns; she beat that upstart Alexis Thompson in the quarters by 2 & 1. The real story, however, are Ivan Lendl's three golfing daughters. Marika (17) won the Doherty last year, but was defeated by Isabelle (16) in a 4 & 2 semifinal match this year. To get there, Izzy (as I call her) had to conquer yet another sibling, Daniela, by the same 4 & 2 margin in the quarterfinal bracket.

MARIKA LENDL ABOVE
I'm thinking, this could be fun. Will they stay amateur long enough to play collegiate golf? Could all three play on the Curtis Cup team at the same time? Is there a fourth? How good might the USA Solheim Cup team be one day? Why did Golfweek publish a picture of Bolger, when it was I. Lendl who emerged victorious?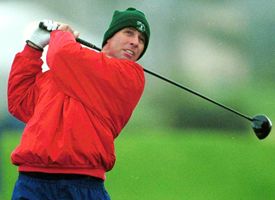 NOT DANIELA LENDL ABOVE
(THAT'S DADDY IVAN.)
No feedback yet
Comment feed for this post
Leave a comment