Nike golf shoes and driver coming out at the correct time
Nike has fired off two press releases in the past month concerning new golf shoe lines. The Tour Premium Golf Shoe looks like this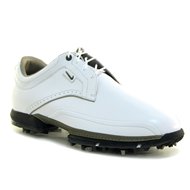 and fits snugly around the entire foot with great comfort and flexibility. It is quite eye-catching, as each member of my most recent groupings instinctively inquired, "New shoes, huh?" The shoe has a classic line, with no expected Nike swoosh. I've had a few nine-hole rounds in which to test them and I am satisfied enough to include them in my regular rotation of shoes (in other words, they have found a home in the trunk of my car.)
More appropriate for the weather this Fall would be the Nike Bandon, a sort of hybrid, hiking golf shoe. Seen here

the Bandon evokes a basketball shoe, rising high up the heel, then soaring above up the front of the leg. Built to withstand the atmospheric onslaughts commonly found in the golfing wildernesses, the Bandon must cause some sort of swing influence, right? It's so much taller than traditional shoes that I can't imagine a similar "feel" throughout the turn and the release. When I get a chance to try them, I'll let you know.
The Nike Mach Speed is a new driver hailing from the northwest (or Texas, depending on where they are producing clubs these days.) We've seen air channels along clubs before, but never in combination with the technology of the square driver. The STRT8 loft and face angle adjustment feature forms a part of the Mach Speed package, ensuring that this club will conform to your needs. Again, when I get my hands on one for testing, I'll give you a better sense of its worth. If you'd like to get a look at it, search images online (it's not even on the NikeGolf website yet, only in the password-protected media center pages.)
2 comments
Comment
from: james angleton [Visitor]
Hey Ron, rumor has it your old lady " fits snugly " into a pair of size 17 jeans. Sorry, that's all I got. How have you been..??
10/11/09 @ 04:29
comme ci, comme ca ... some shoes fit, some don't ... some balls go in the hole, others lip out.
10/11/09 @ 12:40
This post has 6 feedbacks awaiting moderation...
Comment feed for this post
Leave a comment