Turmoil Hits Turnstiles Publishing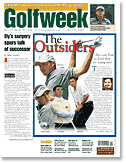 ORLANDO, FL - Turnstiles Publishing, publishers of Golf Week and former publishers of Golf and Travel Magazine, fired embattled president and chief operating officer Ken Hanson.
Hanson, who will be replaced by Vice President Eric Beckson, came under criticism by Turnstiles staffers and industry experts for running Golf and Travel Magazine into the ground. He came under heavy fire for firing highly respected publisher P.J. Boatwright last February after the PGA Show and replacing him with sales manager Henry Robinson who was later fired by Hanson in the Fall. Under Robinson's tenure, the publication lasted three more issues before folding.
Hanson, according to sources inside Turnstiles, never supported the publication of Golf and Travel Magazine. Hanson believed that the magazine was conceptually sound, but severely lacked the advertising revenue to continue on a profitable publication.

He was in charge of both Golf and Travel as well as GolfWeek and Golfweek.com. Both operations under his reign have been losing money. According to sources within GolfWeek, Turnstiles President Rance Crain was frustrated with Hanson's indecisiveness and GolfWeek's failure to turn a profit.
Hanson alienated staffers and GolfWeek advertisers by missing the PGA Show last year in favor of taking a family vacation to New Zealand. Hanson could not be reached for comment and has not returned calls and emails by TravelGolf.com. Turnstiles Publishing Company was formed in 1990. The headquarters is in Orlando, Fla.
December 22, 2001