Thanks for El Tigre, vigilant course marshals and trying to get the ball in that stinkin' little hole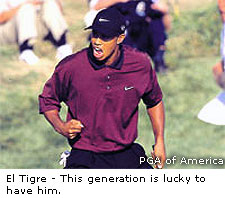 Here's hoping you had a good Thanksgiving and a chance to mix some birdies with your turkey. It's a good time, between Thansgiving and Christmas, to sit back, let the cranberry sauce digest and give thanks and no thanks to the world of golf. So, a slightly belated Thansgiving thanks column:
•Thanks for Tiger Woods. Even when he's struggling with illness or clearly not on top of his game, he's still going to be there at the end, usually. He can be all over the fairway, or in the rough, and still make birdies. The guy's the strongest mental competitor since Jack Nicklaus. This generation is lucky to have him.
•No thanks for Englishman Paul Casey. Just kidding. He's been bashed enough. Actually, this spot is reserved for French golfer Thomas Levet, who's taken over for Casey for most boorish pro golfer.
•Thanks for Michelle Wie. It's always interesting to see phenomenal talent in one so young. Her detractors are just as vehement as her fans, which will make the story line that unfolds this coming year all the more interesting.
•No thanks for Michelle Wie fans who club her critics with unrelenting bad grace.
•Thanks for the Myrtle Beach Golf Association. With so much slick PR coming out of the Grand Strand, it's nice to have someone who tells it like it is.
•No thanks for those tricky surcharges they stick on for the higher prestige Myrtle Beach courses.
•Thanks for Steve Miller, one of the few Las Vegas journalists willing to take on Billy Walters.
•No thanks for Walters himself. He may be finally getting his due, thanks to an imminent investigation by the Nevada State Attorney's office. Las Vegas should be a golfing paradise. It isn't.
•Thanks for the new PGA Tour format. It has its flaws but at least we won't have to sit through these interminably long seasons, with their meaningless finales.
•Thanks for Pellucid Corporation, which keeps an eye on the true state of golf.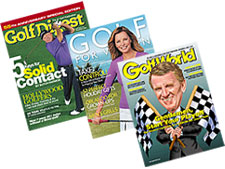 •No thanks for those enshrined golf associations who continue to try and downplay and even hoodwink us about the stagnant state of recreational golf.
•Thanks for Golf Digest's continuing excellence.
•No thanks for Golf Digest's new marketing agreement with the PGA Tour. Will that excellence continue with their new "partners?"
•Thanks for the handfuls of golf course marshals who actually do something to pick up the pace of play. They don't have to be ogres, but they can tactfully teach that glacier-like foursome ahead of you how to speed it up. Take some clubs with you when you make that excruciatingly slow walk across the fairway, for God's sake. You don't have to play fast, just be ready to hit the damn thing when it's your turn.
•No thanks for golf courses that double- and triple-tee in busy seasons, just to herd golfers through like cattle and maximize profit.
•Thanks for the PGA Tour's policy of penalizing slow play.
•No thanks for the PGA Tour's enforcement of same. Not one player has ever been penalized a stroke for slow play. That's right - never. You're telling me Ben Crane has never deserved a stroke penalty?
•Thanks for the new technology. I, for one, love to see pros drive par 4s. How long will it be before Woods and John Daly start taking aim at par 5 greens? As for average players, it gives us a chance to flex our muscled guns on those rare occasions we drive par 4s.
•No thanks for those who whine about the decline of the competitive game because of advanced technology. Nicklaus is a crybaby.
•Thanks for long, risk-reward, dogleg rights with water carries off the tee, my favorite type of hole.
•No thanks for long, dogleg lefts where the fairway runs out at 200 yards and no way to get around except by hitting a long draw, my least favorite type of hole.
•Thanks for those golf courses that give you a cart right off the bat, no matter if you're two hours early to get in some practice time. Call me lazy and you'd be accurate, but it makes things a lot easier.
•No thanks for those courses that make you wait 'til 10 minutes before your tee time to give you a cart. They're usually the same ones with the practice range in the next county. See above for accusations of laziness.
•Thanks for the 90-degree rule and those courses that almost always let you drive on the fairway.
•No thanks for those courses with "cart-path-only" rules even on bright, sunny days and when the overseed has clearly taken hold.
•Thanks for all those rich guys who leave their Pro V1s on the edges of fairways. I guess they're too busy to walk a few steps into the rough.
•No thanks for those rich guys who do make the effort. Less Pro V1s for me.
•While we're at it, thanks for golf shops that give you the option to buy golf balls that sell for less than the average, monthly mortgage payment.

•No thanks for golf shops that charge you for yardage books. They should be complimentary.
•Thanks for that 190-yard 5-iron I hit that came out of nowhere
and enabled me t o finally break 80 on a tough course.
•No thanks for the 94 I shot the very next day on the same course.
•Thanks for uphill lies, downhill tee shots, hazards that are there for a reason and greens that hold.
•No thanks for downhill lies, divot-fill fairways and tiny, divot-pocked tee boxes.
•Lastly, thanks for my wife Laveda for poetically summing up her love of the game (I think): "I love hitting that little ball with a big stick and trying to get it in that stinkin' little hole. It should be easier than it is."
December 5, 2005