A "new media" quandary: Bloggers and press credentials?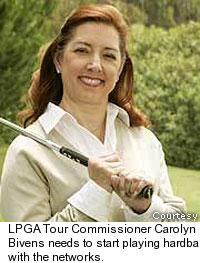 Two WorldGolf.com bloggers, Stacy and Barry Solomon, were recently denied media credentials for the Sybase Classic, an LPGA tournament.
"The LPGA does not recognize blogs (or podcast media) as recognizable news outlets working on assignment and on deadline," an LPGA spokesman told the Solomons in an e-mail. Stacy and Barry also produce a popular golf podcast.
In the May 16 edition of the couple's blog, Golf for Beginners, a miffed Stacy Solomon responded with a question: "Can [new LPGA Commissioner Carolyn Bivens] continue to ignore the new media representing millions and still bring the LPGA into the present?"
The answer isn't simple. "New media" is not so easy to nail down as "old media." Not every golf blog reaches millions of readers. Some are so narrowly focused - simply jotted impressions and observations of everyday, mundane golfing lives - that they likely pick up only a few hundred or even a few dozen readers.
Another problem: What exactly are blogs? Strictly speaking, they are web logs, or diaries. They vary enormously in length, quality, accuracy and responsibility. Some are riddled with errors in syntax and grammar and almost incoherent in structure and composition. Others are written by veteran journalists and experts in their fields, in prose as concise and compelling as you'll read in the best newspapers and magazines. The most influential blogs are indeed read by millions.
Anything and everything
Online golf diarists reflect the larger blogosphere. Some are entertaining, and some even know how to put a sentence together. But are they really capable of covering a PGA Tour or LPGA tournament? Many give readers only the barest inkling (if any at all) of who the writer is. Some offer just news, but most traffic in views and observations.
A random sampling bears this out. All we know about the Undaunted Duffer (golfsduffer.blogspot.com), for example, is that he's a guy from Cleveland whose hobbies are "Everything and Anything." There's a picture of Charlie Brown where his photo is supposed to be. He writes things like, "Much love goes out to David Duval this Friday afternoon as it looks like he will be seeing the weekend at Quail Hollow."
Eat Golf (www.eatgolf.com) is written by an ex-stockbroker and self-professed geek from California who says, by way of credentials, "I have ran [sic] many news sites," and solicits reviews by telling course owners, "Take a picture from every tee, a picture of something with your logo on it, and e-mail them in."
Hooked on Golf (www.hookedongolfblog.com) has an ad for crotchless panties above news about Annika Sorenstam's cut-streak ending.
Fine Chammy (finechameygolf.blogspot.com) is a self-professed porn star who introduces his blog, "I love golf and I like writing about it. I am taking this opportunity to do so. If you want, you can read a little, just don't expect to learn anything."
The Armchair Golfer (armchairgolfblog.blogspot.com) admits he doesn't even play the game.
Are these people you want covering professional golf tournaments?
Then again, there are plenty of golf blogs written by professional journalists that are articulate, informative, and at least try to be fair and accurate.
I agree with the Solomons that many established organizations haven't exactly been quick to embrace the new media. I once half-heartedly applied to be a member of the Golf Writers Association of America. I was rejected because I write for an online network.
Never mind that it happens to be the largest of its type in the world. The GWAA accepts members from "GWAA-recognized publications/websites."
A GWAA spokesman defined accepted Web sites as "news-based, accept advertising and have significant original news content. Examples would be pgatour.com and espn.com."
I didn't mind because it was no big loss. TravelGolf.com doesn't often cover professional tournaments, which is the GWAA's main focus. We write about courses and destinations with the traveling golfer in mind.
No easy answers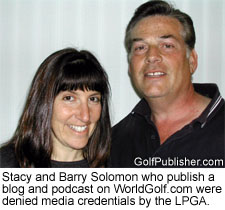 Which bloggers should get media credentials and which shouldn't? That's another tough question, even here at TravelGolf.com. We were embarrassed once when we allowed one of our bloggers, who is no longer with us, to cover a major. We received reports of amateurish behavior in the press tent and at news conferences. The blogs from the tournament were pretty much unusable.
We've gotten better at screening our bloggers, and I have no doubt Stacy and Barry Solomon would have done a good job at the Sybase, or at any other tournament they were allowed to cover.
Our bloggers are a mixed lot. We have veteran journalists as well as non-journalists who are experts in various golf-related fields, or who have proven themselves entertaining and knowledgeable writers.
Still, blogs don't always go through the same vetting process normal articles do. We have editors who review those stories before they are posted, in the same manner as print editors have done for generations. Our bloggers, though they are monitored, are basically on their own.
So, was the LPGA wrong to reject the Solomons? Here is where I equivocate.
Some bloggers clearly do not warrant credentialing. But the LPGA could have done some homework. If it had, it would have learned that the Solomons, who have their own blog in addition to their WorldGolf.com work, write for the largest online golf network in the world. Their blog would have helped enormously with publicity, which the LPGA, and the Sybase, badly need.
It isn't asking too much of the LPGA and other organizations to research bloggers who apply for credentials. Maybe they should buttress their media-relations staff with a blog researcher to separate the wheat from the chaff, as they research print and broadcast media who apply for credentials. Be the first, be innovative, lead the way.
Isn't that the way you get ahead in this new world of "new media"?

May 22, 2006