Golf Channel's PGA Tour deal could be the start of something big for golf nuts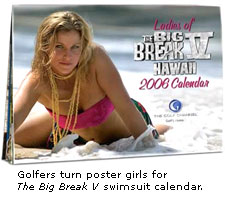 Man, I hope the PGA Tour doesn't interfere with the girls in Hawaii.
Confession time: I love The Big Break on the newly prestigious Golf Channel, especially the fifth installment involving the girl golfers in Hawaii. I don't have my autographed swimsuit calendar yet, but I'm working on it. Anybody have Katie Ruhe's phone number?
By the way, did you know the gals didn't know they were going to pose for the calendar until they got to Hawaii? That makes it even better somehow.
Under normal circumstances, I studiously avoid TV reality shows. These are the kind of people I try hard to avoid in real life, so why would I watch them on TV? But The Big Break has captivated me - the latest one, anyway. I guess it's the mixture of good golf, intense pressure and the possibility of a catfight.
The series has been successful for The Golf Channel, so I doubt it will get axed (unless one of the contestants blows up and attacks her rivals with a 5-iron and a massive lawsuit ensues). But the network does have bigger fish to fry these days.
Somehow, during the PGA Tour's tumultuous television negotiations, The Golf Channel ended up with the big boys. True, ESPN and ABC walked out over money, which doesn't look good for golf, but Tour Commissioner Tim Finchem could have done worse.
For viewers, it's a winner. No more scrambling with the remote trying to find early-round tournament coverage. How many carriers did the Tour have anyway, a dozen? Actually it was six at its zenith, but it seemed like more.
Starting next year, The Golf Channel will be the PGA Tour's exclusive cable carrier, showing Thursday and Friday rounds at 33 events and full coverage of 15 others. Settle in, because it's an unprecedented 15-year agreement.
Obviously, it's a huge coup for The Golf Channel, king of the Arnold Palmer rerun. Finchem professes excitement, though I'm sure he would have preferred the 90 million viewers ESPN brings to the table. At The Golf Channel, with 20 million fewer viewers, they are genuinely ecstatic.
It reminds me of the early days of ESPN, when it televised rodeos, women's lacrosse, European lawn bowling and whatever esoteric niche sport they could dredge up. Now, of course, we wonder how we ever lived without Sports Center.
The Golf Channel has a long way to go, no doubt, and it only has a year to get the start right. Right now, except for The Big Break there isn't a whole lot to watch, if you don't care for infomercials (dual-hinge drivers and Q-Link Equations), dubious instruction pieces and call-in shows.

The network does some nice original programming - besides Break there's Daly Planet, about the misadventures of John Daly - but for the most part it doesn't exactly make golf compelling.
That should change with the PGA Tour deal, and the fact that Comcast Cable, which has a controlling interest in The Golf Channel, had revenues of more than $22 billion last year. Comcast paid $220 million a year for the new deal with the Tour, so it's a pretty good bet they won't play it cheap with the coverage.
Now The Golf Channel can really be the home of golf. Try on this intriguing scenario:
The network is currently the exclusive home of the Nationwide, European and Canadian tours and also televises some LPGA, USGA, PGA of America, PGA Tour of Australasia and Sunshine Tour of Southern Africa competition. Now, how much do you want to bet some of those tours will want to change their formats to play weekdays so their tournaments can be carried live?
So, theoretically, you could have the Golf Channel airing live coverage of various tours Monday through Friday then switch over to CBS or NBC to watch live coverage of the PGA Tour.
It's a golf nut's wet dream - maybe even more than the Big Break swimsuit calendar.

February 13, 2006