Now that Golf Digest and PGA Tour are partners, what can we the readers expect?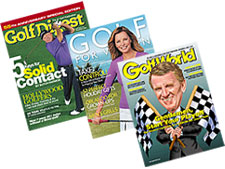 The increasingly incestuous relationship between news and business has so many new, saucy wrinkles these days, it's hard to keep up your guard or even get indignant any more, and I'm not even thinking about Fox News or Rupert Murdoch.
So when one more comes your way, it almost seems like it's another pebble in the avalanche. Golf Digest and the PGA Tour announced last month an exclusive, multi-year marketing partnership in which the magazine and its other publications "will become the only consumer golf magazines recognized as official Tour partners," other than the magazines the tour itself publishes.
Tour marketers talked about what a great deal it is for these two "brands" to strengthen their relationship.
Strange, I thought this was a magazine we were talking about. A magazine that covered the PGA Tour. Now that they're "partners," it seems logical that the question of a potential conflict of interest should arise.
How old-fashioned of me.
"I know that in the past there have been other magazines that have been designated official publications. I think it's something that's kind of happened forever," the magazine's director of corporate communications, Andrew Katcher, told TravelGolf.com.
Doesn't really answer the question, but it does put it in a sort of historical perspective. And actually, it hasn't happened forever. Only in the last 10-15 years have these sorts of partnerships been happening. Maybe this is naive but it seems like in the old days a magazine was a magazine and advertisers were advertisers. The twain met occasionally but at least we could distinguish, for the most part, who was who.
Now, in the creeping commercialism and corporate-influenced, journalistic world we live in, this isn't a bolt of thunder. This is a world in which the White House pays journalists, real and fake, to espouse the company line, in which big entertainment corporations own network news shows.
Golf Digest isn't exactly a hard-core, investigative publication like Time or Newsweek. Most of the magazine is made up of lightweight stuff like tips from the pros, places to play and the portraits of the pros are mostly flattering and even fawning.
Still, they will no longer be writing - supposedly objectively - about the PGA Tour and its players. They will be covering their partners.
And what do they get out of it?
"We believe this broad marketing partnership will be particularly effective in furthering our corporate partners' ability to connect with golf fans and leverage their involvement with the PGA Tour," the Tour's chief marketing officer, Tom Wade, said in the announcement.
Ah, helping the corporate partners gain access to you, the readers who have made Golf Digest what it is today, the bible of golf magazines. Randy Reader, meet Mr. Corporate Big Shot. Has he got a deal for you.
Here's what Golf Digest offers, according to the agreement: "custom advertising, advertorials, special sections and integrated marketing programs." For those of you not familiar with journalistic jargon, advertorials are advertisements disguised as real stories. They are usually identified as advertorials to readers in type so small you need an electron microscope to read it.
There has almost always been occasional outbursts of conflict between advertisers and the publications in which they advertise. General Motors, for example, decided to suspend advertising in the Los Angeles Times recently because a Times auto critic gave a Pontiac a less-than-glowing review and also advocated the firing of certain GM executives because of sagging sales and profits. Some estimates are that GM spends up to $10 million a year on advertising in the paper.
In another well known incident, IBM didn't advertise in Fortune magazine for six years because the IBM CEO took exception to an article. Those are just two small examples.
How do you avoid such embarrassment and loss of revenue? You drop the publication-and-advertiser relationship and become partners!
So, to sum up, we know what the corporate partners, the PGA Tour and the magazine (not to mention its sister publications in the Conde Nast family: GolfWorld, Golf For Women, GolfWorld Business, etc.) get out of this new marketing agreement. What do we readers get out of it? Well, I can tell you what we probably will not get out of it: any negative coverage of the PGA Tour, and maybe not even the whole story. That isn't what partners do.
November 14, 2005