Is Augusta ready for a 14-year-old Asian, a girl no less?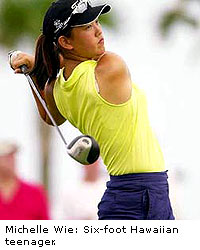 Was that the sound of a mint julep crashing onto the floor at the fine, oldAugusta National clubhouse?
Or was it the sound of a 120-year old member fainting dead away when helearned about the possibility of a 14-year-old Asian girl playing in TheMasters?
The exemption to skip qualifying for the U.S. Women's Open offered bytheU.S. Golf Association and accepted by young phenom Michelle Wie is anobvious PR and monetary ploy - tickets are going like hot cakes and theevent may have its first sellout in history.
Still, I don't mind a bit. What sanctioning body in sports hasn't been guilty of such unseemly behavior at one time or another for the lure of dinero?
Exemptions are normally offered only to those who have earned it, likeHallof Famers or great, proven players who don't qualify otherwise, usuallybecause of a technicality. Wie is the only amateur in the history of theevent to get one. Does this cheapen the women's game? Sure, it does.
But, it would be worth it to see Wie, a six-foot-tall, Hawaiianteenybopper,walking among the ancient pines and even more ancient members of AugustaNational, snapping bubble gum and firing at the sticks.
Farfetched though it may be, it's still a technical possibility after the USGA opened a crack in the door.
The exemption means she can now try to qualify for the U.S. AmateurPublicLinks, which she will try to do in a June 18 qualifier in Hershey,PA.
The Masters traditionally invites the champion of the U.S. Public Linkstournament to the Masters.
Augusta Chairman Hootie Johnson has already publicly said she would bewelcome.
Either Hootie was sipping one too many toddies or he had his fingerscrossedbehind his back. Remember, this is Augusta - motto: "You have to be oldandwhite like us to join. Women and minorities apply for kitchen help intheback."
Of course, playing in the tournament isn't exactly like joining theclub,but the more minorities who set foot on the hallowed grounds, the morelikely club members might come around to a, shall we say, morehumanisticperspective?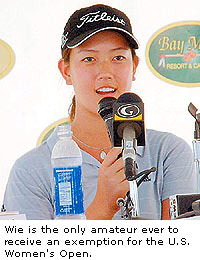 I've always had a grudging admiration for Augusta's hard-headed refusal to join the 20th century, much less the 21st, even though I've disagreed with it. All those old guys remind me of my grandfather; it's a respect for a generation that fought in The Big One.
Augusta has been under fire for its exclusionary policies for more than40years now, starting back in the 1960s when charges of racism were firstwhispered. In the late 1990s, women's groups began to get in on theact.
In 2002, Augusta said it would not be "intimidated" into allowing femalemembers.
The latest salvo was last year when Martha Burk led a campaign againstAugusta National. Afterward, Ingram said: "There will never be a femalemember, six months after the Masters, a year, 10 years, or ever."
Tiger Woods was drawn into the ongoing controversy, and now the latestcaught in the crossfire is Wie, who has made playing in the Masters acareergoal.
Again, it's farfetched. Last year, Wie tied for 39th in her first U.S.Women's Open, and she hasn't fared particularly well against the othergender.Aside from Hawaii tournaments, she's played in three national men'stournaments and missed all three cuts. But, she came within a shot ofmakingthe cut at the PGA Tour's Sony Open in January.
This isn't to say she won't be enjoying moonlight through the pines anytimesoon. Remember, she shot a 64 when she was 10.
The toughest part for the self-proclaimed computer nut might be that, asaminor, Wie would have to make her formal application for the amateurPublinxthrough snail mail; minors aren't allowed to apply over theInternet.
Imagine the old fellas at Augusta fitting her with the green blazer one day. She might already be planning what to wear under all that green. She'd have to skip the mint julip, though.