Tired of the same old golf tours? Try South Africa for a real golf safari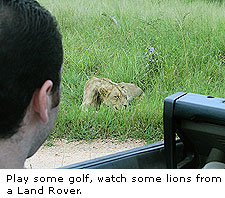 JOHANNESBURG, South Africa - Skirting the edge of the great South Africa escarpment in a BMW sport utility vehicle, singing Marty Robbins' El Paso with a German-accented South African is a great way to get away from the sameness of golf in the U.S.
I really have to get out more.
We tend to think of the U.S. as the world golf mecca, with its gazillions of pristine, immaculately coifed golf courses. Myrtle Beach, Scottsdale, Florida, California, Pinehurst - all these places are internationally renowned for their golf courses, and with good reason.
Still, the game wasn't invented here, though a lot of Americans, like myself, sometimes act like it was.
Natural hazards
We should have learned our lesson with the Ryder Cup. There are other people who can play the game, and there are other places besides the U.S. - and Scotland - that have terrific golf.
Just as the European pros nag their American counterparts to travel overseas more, the same could be said of your average American golfer.
South Africa, to name one. After a recent trip there, I'm sold. The place is fantastic. It has great golf courses and one important attraction you won't find here in the U.S.: elephants strolling through the courses or warthogs grazing in the fairways. They aren't all that way, of course, but there is usually a game reserve within a short driving distance.
You put the two together, and you have a trip worth remembering. It's a bizarre and fascinating country, one only 11 years removed from apartheid, the legally enforced separation of the races.
Touring Soweto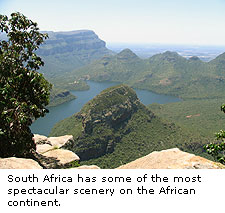 So you have a country that is modern in many respects, combined with the sort of African poverty you see in documentaries. The townships outside the major cities are mind-boggling: great jumbles of shanties that seem to go on forever, with millions of people living in squalor.
The end of apartheid was celebrated in parts of South Africa, and most of the world over, but there are some serious downsides, namely crime. Crime is rampant in South Africa, with many urban areas seemingly lost as to how to control it, but you can feel as safe as you are here in the U.S. if you take the usual precautions you would in any strange place - or in New York, for that matter.
I never once felt unsafe in the country, even when touring Soweto, that hotbed of political turmoil that now has middle-class neighborhoods, sanctioned tours and even a golf course.
"All of Africa looks at Soweto and says, 'look what Africans can do,'" said Herwig Martinek, the country-music-loving German who moved to South Africa in the 1960s and never left.
Geographically nutty
Because the country is so vast - 420,000 square miles - it might be a wise idea to stick to one region if you want to sample the golf, but the road system there is in many respects similar to the interstate system in the U.S. So if you like to hit the open road in search of serendipitous golf courses, South Africa is a good place to do it.
Many Europeans, in fact, like the country for that reason. It's like hitting the open road in the American West. South Africa is one of the most geographically diverse countries in Africa, from the fertile plains of the "highveldt" to the wide, unbroken savannahs of the Eastern Transvaal to the soaring Drakensberg Mountains.
Zulus, wine and road rage
The traveling golfer has a lot of options: the sub-tropical coastline of KwaZulu Natal - Zulu Land - winds up and down the Indian Ocean coast from Durban. There are a number of courses along this route, like the Durban Country Club, Mount Edgecombe and Prince's Grant, that are well worth a visit.
Cape Town and the Western Cape is another amazing region. The nearby vineyards have a wine-tasting route where you can get sloshed on some of the finest wines this side of France. Most offer tours of their cellars and vineyards. If you pick this route, be sure to stop in Franschoek, where French Hugenots landed 300 years ago after being chased out of France. The South Africans invited them on the condition they grow their wine - not a bad deal for the South Africans.
Or you can try Stellenbosch, South Africa's oldest town, where a famous South African rugby player was involved in a recent road rage incident. Along the way, there are courses like Arabella , Erinvale, and Pearl Valley.
400 years old? Sure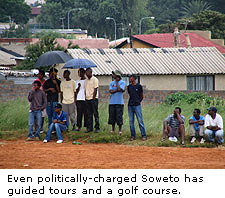 The Garden route, from Mossel Bay in the Western Cape to Storms River in the Eastern Cape, has courses like Fancourt, the Fish River Country Club and George Golf Club. It also has the Tsitsikamma National Park, stretching about three miles to the sea, an area where you can see one of the worlds's most dramatic rocky coastlines, river gorges, rainforest and for the truly adventurous, the highest commercial bunji jump in the world.
Gauteng is home to Johannesburg, where Glendower, the Pecanwood Golf and Country Club and the Royal Johannesburg and Kensington Golf Club are. If you go here, be sure to stop by the African craft market for a remarkable collection of African art. Be ready to wheel and deal, and if a vendor tells you one of the masks is 400 years old, pretend to believe it, but NEVER accept his first price.
Or you can opt for true kitsch at Sun City, the brainchild of South African businessman Sol Kerzner, a gaudy combination of Walt Disney and Donald Trump: palm trees and man-made sea with waves and beaches.
Don't linger there, though; there's too much of the real South Africa to see.
February 10, 2005