Callaway Gardens: Southern Hospitality at its Best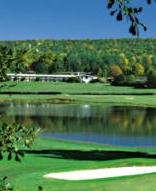 PINE MOUNTAIN, GA - Callaway Gardens is a 14,000-acre, lush, laid-back getaway destination located 70 miles - but a world away - south of Atlanta.
Tucked cozily at the base of pristine Pine Mountain in the southernmost foothills of the Appalachian Mountains, Callaway Gardens offers its guests a gamut of activities: water skiing, tennis, skeet shooting, fly fishing, biking, hiking and even a flying circus. Guests with more tranquil goals can tour a world-class botanical garden, flutter inside one of North America's largest butterfly conservatories, meditate in a memorial chapel, dine in style, or bake on Robin Lake's white-sand beach.
To golfers, of course, those are only secondary activities - put in place as diversions to consider after partaking of Callaway Garden's 63 holes.
The resort features the Sky View nine-hole executive course, plus three diverse 18 hole layouts: Lake View, Callaway Garden's original course designed by J.B. McGovern; the Joe Lee-designed Gardens View; and Mountain View, designed by Dick Wilson, a 7,057-yard, tight, tree-lined test which is home to the PGA Tour's Buick Challenge each October.
Callaway Gardens features one of the best mixes available for those seeking top-notch golf and genuine, old-fashioned Southern hospitality. It's a place where every staffer seems trained in genuine friendliness and graciousness by immersing themselves in reruns of The Andy Griffith Show. It's a golfer's resort where eagles and birdies are powered by the consumption of breakfast platters featuring Speckled Heart grits and toast layered with muscadine jam. (Non-Southerners only need to say, "Y'all help," for an explanation of this rise-and-shine fare.)
Mountain View
The Mountain View course has been home to the Buick Challenge, formerly the Buick Southern Open, since 1991. With a course rating of 73.9 and a slope of 136 from the championship tees, your average golfer attempting to take on the course from the remotest tee boxes would be better off traversing the course in the driver's seat of a Buick.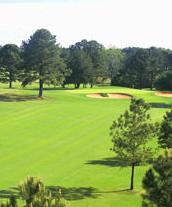 Opened the same year Jose Maria-Olazabal made his debut to the world in diapers (1966), the Mountain View course, despite its name, does not offer any panoramic views of elevated geologic folds in the earth's crust. But there are several holes on the course that are a figurative uphill climb. In particular, the 539-yard 15th hole was ranked the fourth-toughest par 5 on the current PGA Tour courses by USA Today. A lake filled with turtles, bream, Stratas and Pro V1s borders the entire right side of a right-sloping fairway. Most mortals are required to lay up on their second shot before hitting, in theory, a short-iron approach over a fjord of water that protects an elevated green.
On the front side, No. 6, an uphill par 4 that plays to a distant 432 yards, is another hole that can challenge a golfers length, skill and sanity.
"One of the great designers, Dick Wilson, laid out a beautiful course on a beautiful piece of property," Georgian Davis Love III, 1997 winner of the Buick Challenge, was quoted on the PGA Tour's Web site. "It's very straightforward off the tee. It does reward length, but it also rewards accuracy. It's a great old traditional golf course, and if you like the old style golf courses, you can't help but like Callaway Gardens."
David Duval, the 2000 winner of the event, and a former collegiate star just up the road at Georgia Tech, said in the St. Petersburg Times: "Ask anybody, and this is one of the 10 best golf courses we see all year."
Lake View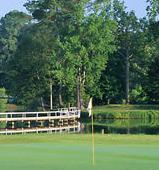 Cason Callaway himself, who founded the gardens, had a say-so in the layout of this course, originally built in 1952 (think newborn Texas tot Ben Crenshaw practicing 4-footers in his crib for some timeline perspective). Callaway the owner, according to the resort's marketing materials, "believed that playing golf should be a pleasant experience in beautiful surroundings." This presumes that Callaway either didn't play the game himself, refused to allow such a negative lexicon as "a good walk spoiled" into his language or thought that Mark Twain, the quote's alleged source, was a hack as a wordsmith.
With a name like Lake View, it should be no surprise that water comes into play on half of the holes on this 6,051-yard, par 70 layout. Beginning with No. 7, the course circles a lake counterclockwise until the tee box on No. 14. On this stretch, those on top of their game will, between shots, enjoy the shimmering brilliance of the water and the profusion of wildlife. Those who are not at their best on this middle third may be asking the angler casting from his boat near the shoreline if they can come on board to play recovery shots out of his tackle box.
This is truly a shotmaker's course. No. 10 is a 163-yard, par 3 over water. No. 13, another par 3 of 188 yards, also requires that the ball keeps its logo dry on its traverse over water to the green.
Gardens View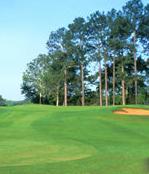 Georgia's most famous course, Augusta National, is renowned for it abundance of azaleas, but the layouts at Callaway Gardens, most notably the Gardens View course, feature a greater abundance and variety of the flowering shrubs - over 700 azalea hybrids flourish on the course and throughout the resort. They also thrive in a more natural state, unprompted to bloom by the heat of hair dryers for the benefit of CBS cameras - as is the vicious rumor surrounding that other tournament across the state which offers a green jacket to the winner of the April event.
The Gardens View course also features endless varieties of wildflowers, a portion of the world's largest display of hollies, and a variety of holes that range from pansies to Venus flytraps. No. 11, the 18th handicapped hole, is a par 3 that requires only a softly struck 153-yard Texas League blooper. No. 3 is a gargantuan 531-yard par 5 that requires a tailwind and a heaping helping of those Speckled Heart grits to reach in two.
Sky View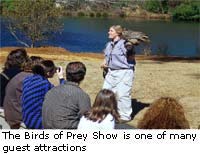 Sky View is an executive nine-hole course that plays to 2,096 yards and a par of 31. This course is the most likely destination for corporate conference attendees who slip out of seminars during mid-afternoon restroom breaks and don't return.
Along with all of its other amenities, Callaway Gardens is a mecca for meetings. It has received numerous national awards from publications such as Meetings & Conventions magazine for its overall facilities.
Places to Stay
The hamlet of Pine Mountain has a few small chain motels and mom-and-pop overnight stops, but the majority of lodging is within the Callaway Gardens complex.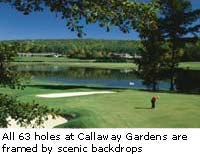 The Callaway Inn features 349 guestrooms and suites.
The 155 two-bedroom Southern Pine Cottages are an alternative for families or small groups. The cottages offer spacious living and dining areas, fireplaces, screened porches and decks.
The plushest digs are the Mountain Creek Villas. Each villa features a large living and dining area, fireplace, fully-equipped kitchen, washer and dryer, screened porch, patio, sundeck and separate bath for each bedroom. The secluded villas range in size from one to four bedrooms.
Callaway Gardens
U. S. Hwy. 27
Pine Mountain, Georgia 31822
Phone: 800-CALLAWAY (225-5292)
Fax: (706)663-5068
Golf e-mail: info@callawaygardens.com
Reservations e-mail: reservations@callawaygardens.com
Make sure to check out the resort's information-rich Web site at www.callawaygardens.com for reservations and all of your lodging and golfing needs.