Catching up with Jay Bilas: ESPN college basketball analyst bleeds hoops and golf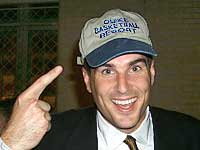 CHARLOTTE, N.C. -- The phone rings. It's ESPN basketball analyst Jay Bilas. He's walking through the gate at Charlotte Douglas International Airport, road weary from working the sidelines in the Kansas-Holy Cross preseason NIT game.
He's on his way to his law office, where he manages to hold down some semblance of his former legal career. Before Bilas pontificated on fantastic freshman, underclassmen leaving early and Final Four picks, he was a full-fledged attorney in one of Charlotte's largest and most prestigious law firms.
For now -- during the 10 free minutes a week he gets during the college basketball season -- Bilas wants to talk golf. It's been a few weeks since the former Duke hoopster has teed it up, and he's antsy. During his "offseason" he plays anywhere from three to five times a week at the Carolina Golf and Country Club in Charlotte. Leading up to the college basketball season, Bilas flies around the country to visit different schools. These trips invariably turn into golf outings with the respective coaching staffs.
"This summer, I found the best greens I have ever seen," Bilas says with all the conviction of someone who saw God a few weeks ago but hasn't been able to tell anyone. "I went out to Spokane (Washington) to visit Gonzaga, and I played Manito Country Club with their coaches. Then I played the Coeur d'Alene resort course with (former Gonzaga point guard and Atlanta Hawks player) Dan Dickau. The greens at both those courses were perfect. And man, Dan can really play. He must have shot a 75 or 76."
As for Bilas, he carded a 79. The same score he shot in the club championship at the Carolina Golf and Country Club, sans the triple bogey he took on 18. Bilas says he's playing to an index of 9.7, but that he's all over the board during a typical week. And as you might expect, a man who's part lawyer, part analyst, and part diehard golfer is as familiar with the USGA rules of golf as he is with a back screen. So familiar he'd change a couple of them.
"I think if you hit the ball into a divot it should be ground under repair," says Bilas. "The pros are all hitting to the same spots, so it's more of an issue for them. But now that I play a lot, I notice it happens quite a bit. Also, I have never understood the handicap system. When my index drops to a certain level I can't take more than a certain score on a hole. There are times when I can't take more than a double, but I easily had a triple or more. If I can count an eagle, why can't I count a double?"
Bilas' sense of golf justice was honed after graduating from Duke and playing overseas. During the offseason, he'd return to Durham and play 18 or 36 holes a day with some of his buddies to kill the down time. Even at 6-foot-7, Bilas says he's never had trouble swinging the club.
"I've been tall all of my life, so I deal with it," he says. "I have a steep swing and some trouble hitting my woods sometimes. It's like my instructor says, I just don't have much margin for error."
When he's not playing at his home course, Bilas says he likes to roam around the Carolinas in search of good golf. His favorite weekend getaway is Pinehurst, whether it's the resort or the surrounding courses. Around Charlotte, his favorite courses include the venerable Charlotte Country Club and Quail Hollow Country Club -- site of the PGA Tour's newest event, the 2003 Wachovia Championships. Bilas also enjoys two of the Queen City's newer daily fee courses, Springfield and Sky brook.
"I am a big fan of the classics," Bilas says.
So much so that his dream golf vacation doesn't involve Arizona, Florida or even Pebble Beach.
"It would be to the Northeast. I want to play Pine Valley, Winged Foot and Baltusrol over the course of a long weekend," Bilas says. "That would be as good as it gets for me. It would come close to a religious experience."
The Bilas File
What's in the bag: Titleist DCI irons, Nike driver, Callaway 3-wood, Ping Putter, and the new Mizuno driving iron.
Dream foursome: Father, brother and former Duke teammate Mark Alarie.
Celebrity playing partners: Former Duke standout and current San Antonio Spur forward Danny Ferry, super agent David Faulk, and Charlotte radio personality Gary Williams.
Best golf story: "I was a member at the L.A. Athletic Club, and we had playing privileges at Riviera. The last time my dad, my brother and I all played together was at Riviera. We took caddies, played in the morning, had lunch, the whole bit. My dad sees me whipping out my credit card to pay for everything and he was like 'no, I'll get this one.' Well, I hadn't even asked how much it was going to cost and when they handed my dad the bill, you should have seen the look on his face. His jaw was literally down to his ankles. I think it was something like $260 per player. To this day, his friends call him Mr. Riviera."
Underrated golf scene: "Washington D.C. is a great place to play golf that a lot of people don't think about. I am lucky though, because Alarie joined Congressional a while back, so I get to play out there when I am up there."
Most high profile legal case: Bilas v. Barney. Bilas had to subpoena the beloved dinosaur's costume in a case involving allegations of copyright and trademark infringement against Morris Costumes of Charlotte. At one point in the trial the judge had three purple Barney costumes in front of him. Straight faces were hard to come by in the courtroom.
Final Four picks: Arizona, Kansas, Texas and Pittsburgh.
November 21, 2002