One heroic 'Concession' leads to another for golfers in Sarasota, Fla.
By Edward Schmidt, Jr., Special Contributor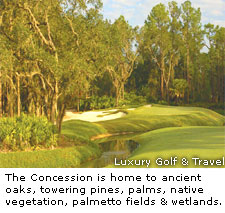 Forty-eight hours after Jack Nicklaus' stirring and heartwarming farewell at the British Open Championship at St. Andrews, the Golden Bear flew to Sarasota, Fla., to work on the design of The Concession Golf Club, a Jack Nicklaus Signature Course he is designing in association with British golf icon Tony Jacklin. It will debut in January 2006.
"Jack went directly to the The Concession after the Open," says Chris Cochran, senior design associate at Nicklaus Design. "He loves the site and the long-lasting potential of the course and the community."
The golf course site - spanning more than 500 acres at The Concession Golf Club & Residences, a $600 million, 1,232-acre luxury, private, gated estate golf community - is a wonderland of ancient oak trees, towering pines, palms, native vegetation, palmetto fields and wetlands. Unlike much of the open land in southwest Florida that was flattened and scalped by vegetable farms and citrus groves, The Concession site was untouched, says Kevin Daves, the environmentally sensitive development partners of the project. "Some of the oak trees are more than 200 years old and there are pines as tall as 150 feet," says Daves.
To preserve elements of the original property, Concession Land Development, LLC, comprised of Property Markets Groupa and Core Development, Inc. spent more than $700,000 to transplant 65 live oaks, each roughly 45 feet in height, and 15 slash pines, some as high as 45 feet. They line the fairways and streets of The Concession.
"We utilized the trees to our advantage," says Nicklaus of the 7,527-yard, par-72 course. "Trees frame one side of the fairway or the other on all but one hole."
From a playability standpoint, Nicklaus says the bunkering and green complexes will be unique because movement originates in the interior of the greens and fans out to the edges with relatively flat collars and bunkers, creating a more freeform look with jagged edges. Bahai grass was used on the fairway bunkers and some greenside bunkers to achieve a more rustic look.
Longtime friend and once ardent Ryder Cup foe Tony Jacklin, who consulted with Nicklaus on the design,is one of The Concession's most enthusiastic supporters. "I have played hundreds of courses around the world in my career, and I'm firmly convinced The Concession will be a world-class course," says Jacklin, the 1969 British Open champion, 1970 U.S. Open champion and four-time captain of the European Ryder Cup team, who plans to live at The Concession year round. "The conditioning and maintenance program will be on the same level as some of the great golf courses around the world."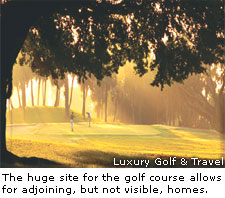 Equally exuberant is The Concession director of golf Jimmy Wright, a phenomenal club pro player who has competed in 26 majors in a long and storied career. "This golf course is going to be the best in Florida," says Wright. "It really won't look like a new course when it opens, it'll appear and feel like it has been here for decades."
"When all is said and done, there might not be a better test of golf - where you ask a golfer to hit a wider variety of shots - in the state of Florida than The Concession," says Cochran.
Beyond the hyperbole generally inherent with a new golf course and community, Richard Lam of Property Markets Group says what truly sets the course and community apart from others is a simple, direct and unwavering philosophy to not compromise. "Everything we have done at The Concession is to provide the absolute best residential and golf experience anywhere, period," says Lam.
There will never be any housing on the golf course. The site uses more than three times the amount of land typically needed for a golf course and the "core" design allows for adjoining, but not visible, enclaves of estate-like homes - 255 single-family lots, ranging in size from half an acre to one acre. While the average practice area might be four to eight acres, The Concession has a mammoth 23-acre practice area, as well as a traditional caddie program and junior golf programs.
In the developers' goal to create the ultimate private golf experience, The Concession will feature two separate clubhouses - a traditional golf clubhouse and a sports clubhouse. Set to open in 2006, the 32,000-square-foot golf clubhouse will have a tile roof and a prominent Old Florida ambience with liberal uses of trellises, overhangs, open areas, large verandas and expansive terraces that will offer golf course panoramas. The sports clubhouse, which will start construction next year, will have amenities like croquet courts, tennis, resort-style pools and a fitness facility.
Nicklaus and Jacklin won't be the only stars roaming the fairways at The Concession. Sir Sean Connery, a personal friend of Jacklin's and avid golfer known best for his role as British secret agent James Bond, has become an honorary member as has popular PGA Tour player and ABC-TV golf analyst Paul Azinger.
The Jacklin and Nicklaus families are building homes at The Concession, which has a special significance because the community was named after an event that has forever linked them together. At the 1969 Ryder Cup at Royal Birkdale in Southport, England, Nicklaus, in a show of classy sportsmanship, conceded a 2-foot putt to Jacklin that resulted in a tied match between the Great Britain/Ireland and American teams.
The Concession pays tribute to that gesture and the Ryder Cup in several ways throughout the community. Neighborhoods Birkdale and Lindrick are named after Ryder Cup courses, the golf clubhouse will brim with photos, artwork and memorabilia, and each of the teak tee monuments on the course will feature a photo and written description of a definitive Ryder Cup moment.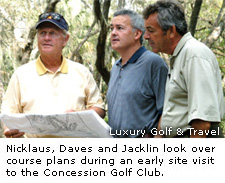 While the Ryder Cup dedications pay homage to Nicklaus' glorious past accomplishments, Nicklaus Manor, a signature neighborhood of manor homes at The Concession, is a strong commitment to the Nicklaus future. The Golden Bear's family made a personal investment in the unique enclave of homes that will bear the Nicklaus name. The family will play an integral role in the project.
"This was a great opportunity to get our entire family involved in the project," says Nicklaus. "My wife Barbara and daughter Nan are involved in the interior design of the Nicklaus Manor homes. My son Gary is involved on the real estate side with Nicklaus Investments. My son Steve will be involved with some of the homes that will be constructed and my son-in-law Bill O'Leary will handle the landscape design."
Nicklaus and the developers of Nicklaus Manor homes recently secured the services of internationally famous designer Adrienne Vittadini to head the architectural design committee for the project. Vittadini is renowned for designing chic clothing, luggage, fragrances and bed linens, and three years ago she transitioned from high fashion to luxury homes with the formation of AV Casa, a homebuilding company. She is a strong believer in the Palladian style, which features high, wide, beautifully proportioned rooms with open floor plans and panoramic views.
Nicklaus Manor will include 33 homes ranging in size from 3,800 to 5,500 square feet in the mid- $2 million range. One of the key features of the project is the convenience of homeowner services available through a private concierge dedicated to Nicklaus Manor where housekeeping, pool services, shopping and delivery options and more will be offered.
"When completed, The Concession will be a great legacy to everything that is right about golf, from great sportsmanship to an exceptional course and community," says Jacklin. "I'm so excited we were able to commemorate that great sporting gesture of Jack's into something that will be enjoyed for generations to come."
This article originally appeared in Luxury Golf & Travel, a magazine that caters to those who enjoy the good life, whether that means conquering an incredible golf course, visiting a tropical island, or discovering a dream resort. The editors and designers of Luxury Golf & Travel provide a vivid preview of the finest golf courses, resorts and real estate opportunities on the map. To subscribe, click here or call (435) 940-1701.
May 5, 2006