Straight Shooter: Kevin Costner offers a candid look at his golf game
By Scott Tolley, Special Contributor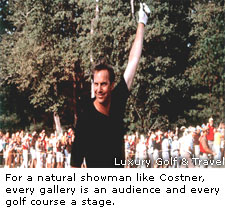 For the golf purists, we suggest you skip the next five pages. Move ahead to some nice travel piece or a breezy read about a postcard-perfect golf course. See, this is not a story for those who believe The Golf Channel is can't-miss TV. Or those who TiVo infomercials on the latest swing aid and find the USGA Rules Book light bathroom reading.
See, this is a golf story with the shanks.
No, it didn't start out that way. The assignment was simple and alluring enough: a one-on-one with Kevin Costner, the multi-faceted actor whose appeal transcends genders. He is the man who once made People magazine's 50 Most Beautiful People list, and has such chick flicks on his filmography as Message In a Bottle, Bodyguard and the recent The Upside of Anger.
But he is also the man who appeals to the hairy-chested of the movie-going public, after starring in some of the most memorable and entertaining sports movies to make anyone's (including this writer's) top-whatever list. It was his role as over-the-hill minor-league catcher Crash Davis in Bull Durham that inspired me to make a two-week odyssey through the Carolina League to see what life in the minors was all about. It was his starring role in the mystical Field of Dreams that almost led me to whack down my neighbor's hedge to build my own baseball field to see if "they will come." And if sports isn't your cup of testosterone, Costner has given us Elliott Ness, Robin Hood, Wyatt Earp and he's danced with his fair share of wolves.
Then there was Tin Cup.
For those who have made a living in golf or live for golf-and especially those who don't take life too seriously-Tin Cup is a classic. It was the story of driving-range pro Roy McAlvoy from the dustbowl Texas town of Salome, who plays through his personal demons and to the U.S. Open. It was also the movie that forever cast the real-life Costner as a bona fide golfer. After all, he has seemingly played in more pro-ams than Bill Murray and Ray Romano combined, and has done so with elegant and resplendent attire stolen from the closet of Walter Hagen or Bob Jones.
So, naturally, this would be a story about how Costner feeds his passion for the game of golf, how he yearns to be reincarnated as Hogan or Nicklaus, how he loves to split the dew of a fairway on a cool morning and beat balls until the sun sets near his Santa Barbara home. This would be a story-if you will allow me to steal the title from the movie that afforded Costner the opportunity to pitch in Yankee Stadium-For the Love of the Game.
Wrong.
The first warning shot fired should have been when Costner's close friend and part-time caddie Tim Hoctor, an amazingly affable real-estate broker from Ventura, Calif., suggested the interview take place in conjunction with Costner's exhibition with Jack Nicklaus during the grand opening of The Cliffs at Walnut Cove in Asheville, N.C. Oh, you mean before or after? No, Hoctor said, "during." It was enough that Costner would be in golf nirvana, playing a round with the Golden Bear. Now, he was also expected to do an interview?
The final warning salvo would come in a voicemail exchange with Hoctor. In an attempt to research Costner's deep-rooted love of golf, Hoctor was asked if there were any profiles of Costner the golfer that really hit the mark. His answer was something that boiled down to, "See, Kevin doesn't really like golf." Given his druthers, Costner would play a few holes with his buddies, then retire to the grille for a burger and beers.
Oh, I see.
Well, what eventually transpired in Asheville was as entertaining and refreshing a look at the game as one can get. A walk-and-talk with Costner is a glimpse into why golf is, as Nicklaus calls it, the greatest game of all. You don't have to beat balls until your palms bleed or sleep with your golf glove under your pillow to appreciate the game.
Perhaps you remember Costner's classic line from Tin Cup: "Sex and golf are the two things you can enjoy even if you're not good at them." When you meet Costner, the line is given new meaning. Because when you begin to understand where Costner comes from, you truly see why golf can and does appeal to so many.
"Golf, to be honest, is representative of a real opportunity for me to be with my friends," were the first words out of Costner's mouth. "It's very pastoral out here. Do you know what I'm saying? I mean, I have to resist the urge to take my shoes off and run barefoot. Look, we're not kids anymore, so where are our playgrounds? Golf just represents a chance for me to just go out and to be with people."
Costner went on to venture into some deep thoughts and reflection that explained that if he had followed conventional wisdom, he might have parlayed that marketing degree from Cal State-Fullerton into a very average life. Had he done that, he might never have heeded the advice of Richard Burton, who on a plane trip from Mexico told Costner to pursue his love of acting.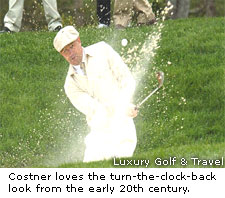 "I would have lost my opportunity to spend an afternoon with Jack Nicklaus if I had not found that what I want to do was act," Costner explains. "Our professions brought us together. I've been able to be with presidents of other countries, I've walked in villages where there's no water ... When you kind of follow your own path, it's amazing the intersections you have with others."
Like Jack Nicklaus.
"I think there's a moment in time where you wonder what it would have been like to hang out with (Clark) Gable or Spencer Tracy; you wonder what it would have been like to hang out with (Paul) Newman and (Steve) McQueen," Costner says. "I try not to ever get overwhelmed by this game or who I'm playing with, but the significance of today will grow. Today, right now, is about the moment. If I start to think about its historical implications, as far as my Rolodex of great moments, I won't have any fun. But, I'm very cognizant of what this is." And fun is what Costner is all about on the golf course. Well, fun and competition. Here is a man who loathes recreational golf, but thrives on the opportunity to be inside the ropes with something on the line. And with golf's ability to even the playing field with handicaps, Costner's solid (and sometimes spectacular) 14 makes him dangerous when the figurative spotlight is on.
"I think being an actor helps in that he plays his best in the most serious times, which is really unusual," says Hoctor, who has been friends with Costner since little-league baseball. "The more people watch him and the more serious he plays, I think that really makes it more fun for him.
"I think he just thrives on the competition, being a good athlete. He told Fuzzy Zoeller once in Tampa, 'You know Fuzzy, I don't play a lot of golf, but when I do, I [really] want to win.' That's what keeps him going."
Oh, "and he wants to win 18," Hoctor adds.
Because as Costner would later proclaim, "Second place just means first loser."
Even in a two-man, slap-and-giggle exhibition, you got the undeniable feeling that Costner wanted to go toe-to-toe with the greatest golfer to have ever played the game. When Costner had several chances to take a hole from Nicklaus, only to see the Golden Bear chip in or hole a sand shot, you could almost hear Costner's teeth gnashing.
Costner's swing is surprisingly sound, with the flashes of brilliance you might expect from a 14. Early on in the exhibition, Costner followed Nicklaus' hole descriptions on each tee by lacing one drive down the middle after another. "Maybe I should hit first and let you describe the hole," Nicklaus said. A few minutes earlier, Costner hit a 6-iron into the wind that ended up pin-high, prompting applause from Nicklaus and a sincere, "Mr. Costner that was a good shot-a very good shot. You have a very nice golf swing."
To keep this in perspective, understand that golf only became a mistress of Costner less than 10 years ago during the filming of Tin Cup.
CBS analyst and golf humorist Gary McCord was among Costner's swing coaches for the movie. Costner had played little to no golf then, and they needed to transform his swing into something believable. McCord was amazed at what a quick study his star pupil was. He later wrote, "The golf swing is very hard to fake, and I'm willing to bet no other actor could have pulled this off. It was an amazing performance ... [Peter Kostis and I] changed literally everything he had done before, and he stuck to it like makeup sticks to Tammy Faye Bakker."
There are certain aspects of the game that Costner embraces and those he shuns.
An avid outdoorsman, Costner most loves the walk with nature you get in golf. In fact, he's toyed with the idea of building a course at Tatanka, the tourist attraction near Deadwood, S.D., which stands as Costner's tribute to Native Americans and the bison that once roamed the land. He also loves golf's threads - particularly those turn-the-clock-back looks from the early 20th century, where dress shirts and ties were the norm, not Sansabelt slacks or T-shirts turned golf shirts. When Costner made his entrance at the exhibition, he appeared like an apparition from The Great Gatsby. Dressed in shades of white and beige, Costner wore stylish pleated pants draped over tan-and-white saddle oxford shoes. His white shirt and knit tie were covered by a beige sweater. The whole ensemble was topped off by a Hogan cap.
"The tie is a tradition I wish would seep back into the game," Costner says. "I always felt a tie could be almost like the yellow jersey in the Tour de France. The leader [of a golf tournament] could wear a tie.
"I like the elegance of it. When I look back at those black-and-white shots, it was just so handsome. Even the galleries were dressed that way. It was nice to look at it."
While Costner can accessorize with the best, he's not much on the game's minutia.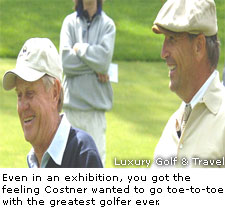 Sometimes he wears a golf glove; sometimes he forgets it's in his back pocket. Costner likes to hand out dozens of signed golf balls to the gallery, but when asked what ball he plays, Costner responds, "I don't know."
"I have no pattern to my golf," he says. "I show up and play. I'm a mixed bag."
As for equipment, it is mixed bag, too, and Costner likely can't tell you what he plays. If you are close enough, however, you can see for yourself, because Costner doesn't use head covers. The logic is traced back to his days of filming Tin Cup, and the first time he played in a tournament-the Bob Hope. "My caddie is a kid that used to baby-sit for me and he tried to make the Tour," Costner explains. "We're on the range and he's kind of going through my bag, seeing what I have in my bag, because everything I had, I had just been given. All of a sudden I look back and I can tell he's very concerned, so I said, 'What's wrong?'" It turns out that Costner had two guns in his golf bag, both hidden by head covers.
"When I was filming Tin Cup, we'd be out there around 6 when the quail came out and my son and I would get our limit," Costner says. "So there [my caddie] was on the range with two weapons in the bag. He goes, What do you want me to do with all the shells in there?'
"To this day I don't have a head cover."
Hoctor remembers once getting Costner's golf bag that had been sitting unused for six months. The bottom fell out and all the pockets were gone thanks to mice who had eaten through to get to candy Costner had left in there months prior. Par for the course, Hoctor explains, because Costner might play 20 to 25 rounds all year-mostly tournaments. "I don't see recreational golf for me," Costner says on the eve of the BMW Charity Pro-Am, an event Costner has helped elevate to marquee status on the Nationwide Tour. "With my friends, I'm just like, gee, I want to stop at 11 and get a beer or something else. I want to stop and take a nap. Tomorrow will be kind of fun because I'll try to win. I get that. I'm not competitive when I do my movies; I just try to make a moment that you'll never ever forget."
The performer consumes Costner at every dogleg. But often, his body double is pure competitor.
Take for example on one hole, when Costner left himself a shot from the thick rough, with tall Carolina pines between him and the hole. He asked that I stand behind him, to provide an audience as he performed his soliloquy with a wedge. The shot squirted from the rough, over the trees, and landed just off the green.
"I found that what I've had to do is actually keep some kind of competitive thing going for me, because I lose focus or interest if it's not a competition," Costner explains. "I'll do something like what I did just then, which is put some kind of weird pressure on myself to have somebody stand back and watch me, or have people clap when I putt, because at that certain moment, I feel like, I could really fail here, it could be kind of embarrassing. I create an artificial pressure in order to kind of focus ... to have something at stake when actually it seems like nothing is at stake."
The added stimuli inside the ropes often comes from those outside it. Costner is, at heart and by nature, a showman. On a golf course, he exudes charm, adlibs crowd-pleasing one-liners, flexes his muscles after good shots, and begs people to clap wildly before putts. He engages the young, the old and particularly the beautiful.
Married less than a year to the former Christine Baumgartner (the couple honeymooned in St. Andrews), who warmed up alongside her husband with head-turning beauty and a silky-smooth swing, the 50-year-old Costner is still a heartthrob. Even in an exhibition tucked away amid the Blue Ridge Mountains, women of all ages surfaced, leaning against the ropes in hopes of catching Costner's eye, or hoping their shrill screams from across a fairway will grab his attention. Most often it does.
After all, every gallery is an audience and every golf course is a stage.
It's why Costner was named in a Golf Digest caddie poll as the second best celebrity to be paired with in a pro-am (the caddies emphasized the "girls in his gallery"), and in the same poll, he was named the worst celebrity.
"Kevin is a little absent-minded out there sometimes and he walks on peoples lines or does something like [that]," Hoctor says. "He doesn't play that much golf so he doesn't really think about some things. He's more interested in people being happy."
Nicklaus, certainly a purist if a label is necessary, cracked a grin whenever Costner played to the gallery. He found Costner entertaining, engaging, and at round's end, welcomed him as a partner any time. In short, it was good fun, a good show.
"It's the theatre of it," Costner says. "It's also an opportunity to grab a kid, pull him out from underneath the ropes and let him stand next to people who seem 10 feet tall to him, and look back at his parents in kind of that shy way that happens. All those opportunities exist in golf and in a tournament situation. Or, you can elect to distance yourself as if your game is NASA, you know, like some kind of science. For me it's not."
This article originally appeared in Luxury Golf & Travel, a magazine that caters to those who enjoy the good life, whether that means conquering an incredible golf course, visiting a tropical island, or discovering a dream resort. The editors and designers of Luxury Golf & Travel provide a vivid preview of the finest golf courses, resorts and real estate opportunities on the map. To subscribe, click here or call (435) 940-1701.
May 19, 2006