Gold Creek Resort has plenty to offer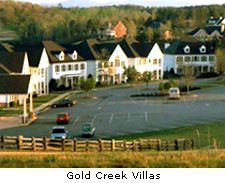 DAWSONVILLE, Ga. - For golf travelers who also desire alittle NASCAR, some premium outlet mall shopping, gold panning, AppalachianTrail hiking, kangaroo watching and pumpkin picking - to name a fewuncommon diversions - all within 20 minutes of their next links-basedgetaway, then Gold Creek Resort is for you. Located in the foothills of theAppalachianMountains 60 miles north of downtown Atlanta, it may be the only destination on the map that has all of these features.
Combine the variety of unique extracurricular activities available with thediverse 27 holes at Gold Creek (three par-3s, -4s and -5s on each rollingnine) administered by architect Mike Young, and you'll find yourselfexhausted, satisfied and snoozing in bed each evening before Jennifer Millsand Golf Central highlights come on the cable.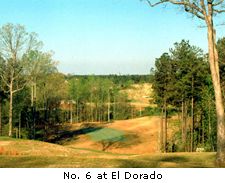 This town, rabid fans of stock-car racing will know, is the home of "AwesomeBill from Dawsonville" Elliott, a former Winston Cup champion who isperennially voted the sport's favorite driver and is revered in these partsfor his left-turn prowess.
If you're in town on a Sunday during a NASCAR racing weekend,venture into the Dawsonville Pool Room after your round, order a BullyBurger, fries and a Coke, and cheer for the local hero in this diner that isa shrine to his decades of accomplishments.
If the driver of the No. 9 bright red Dodge - that would be Bill - crosses the finish line first with the checkered flag, it's the establishment'stradition to blare a siren across the hamlet to honor their favorite son.
Less than a mile away from the Dawsonville town square, you can visit ThunderRoad USA, home of the Georgia Racing Hall of Fame. Admission ($8.50for adults) lets you test racing simulators and soak up all of the Elliottfamily and NASCAR nostalgia you can shake a lug nut at.
The Gold Creek Resort originally opened as an 18-hole layout in 1995 and wasselected Georgia's "Best New Course" by Golf Digest. The course now offersthree distinct, challenging and enjoyable nines, each playing just short of3,500 yards from the back tees, with the gold-themed names of Prospector,Nugget and El Dorado. The shiny-gemmed references have historical relevanceto the area's past.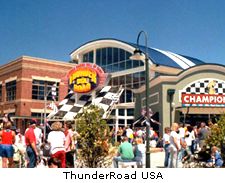 The charming mountain town of Dahlonega, less than 15 miles north on Highway9, was the site of a major gold prospecting grab in 1828 that was just asfrenetic as the more famous Forty-Niners rush that came two decades later inCalifornia. Dahlonega was home to a federal mint from 1835 until the startof the Civil War (still the "War of Northern Aggression" to some in theseparts) that produced over $6 million in gold coins.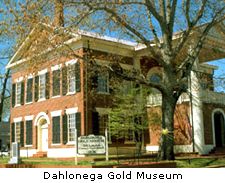 Dahlonega is a favorite entrance to the mountains for Atlantans looking toescape the city's gridlock and find a weekend of solitude. The town squareis a beehive of activity on the weekends and features numerous artisanshops, boutiques, general stores, a gold museum and gold panningopportunities for those willing to sift through sand for a few keepsakeflakes. Come mealtime, don't miss a stop at the historic Smith House, justoff the city square. For decades it has been sitting its guests at largecommunal tables and serving them steaming fried chicken, baked ham, friedokra and assorted other Southern fare. You will be so full you will swearyou won't eat again for another week.
Back on the course, Gold Creek's Prospector nine (Rating/Slope: 128/36.3)features a short opening par-5 of 495 yards from the back tees that isreachable in two with a well-placed drive. The fairway drops off sharplyinside the 150-yard marker down to a creek that fronts the green. It's arollercoaster hole that can jump start your round with a birdie, or leaveyour hair standing straight up in fear of the remaining eight.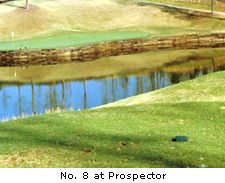 Prospector also features a dramatic downhill tee shot off an elevated teetucked into a hillside on the 385-yard par-4 third hole, along with a pairof picturesque par-3s, No. 4 and No. 8, that border one of the larger lakeson the property.
The Nugget (132/36.7) and El Dorado (136/36.5) nines offer similar views andchallenges in this geologically uplifted and beautifully hardwood forestedarea of Georgia. Play all of the holes and you'll be cleaning the clubfaceson all 14 of your sticks. Nothing will be left in the bag.
"We've got three different attitudes," said Amber Miller, the resort'sdirector of golf. "Golfers get three different experiences on whatever ninesthey play. No matter the nine, being in the foothills of the mountains, youcan't get away from the beautiful scenery that surrounds just about everyhole you play."
Gold Creek Resort is a daily-fee facility, a neighborhood course for membersas well as a stay-and-play facility that hosts vacation golfing getaways andexecutive retreats. Numerous large companies, including Coca-Cola, AT&T andSouthern Company have taken advantage of the property's 8,000-square footconference center and 74 guestrooms.
"All of the blue-chip companies you can think of, we've hosted them here,"said Wanda Pittman, the resort's general manager. "We're a full-serviceresort, with the exception of a spa, which is in the plans."
Gold Creek handles corporate groups ranging from 10 people to 200 peoplewith its six meeting rooms and 15 parlor rooms, according to Pittman. Theconference center also has three ballrooms for various functions, including60 weddings that were hosted in 2002.
"We've got so many area attractions in addition to what we can provide onthe property," she said. "And there is a lot of clean air up here with themountains so close by."
The Gentry Grill in the clubhouse offers American and Southern cuisine fromits culinary staff. It offers a don't-miss, all-you-can-eat seafood buffeton Friday night and a just-as-delectable Sunday brunch. Your meals willdigest easily with panoramic views of the southern Appalachians outside thegrill's windows.
If time permits, slip off your soft-spiked FootJoys and put on your hikingboots. Amicalola State Park, featuring Amicalola Falls, a 729-foot waterfallthat takes the longest plunge in the eastern United States, is only 15 milesaway. You can view the falls from the bottom or drive up a steep paved road,park, stroll to a bridge and watch the water plunge off the mountainsidefrom under your feet.
A few hundred yards higher up the hill is the 57-room The Lodge at AmicalolaFalls. From its parking lot, thousands of Appalachian Trail "through hikers"have begun their 2,000-mile trek to Maine from nearby Springer Mountain, thetrail's southern terminus.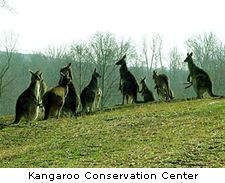 From Gold Creek you also hop right on over to The Kangaroo ConservationCenter, just seven miles away, which features the largest collection of themarsupials outside of Australia. Not only can you see Reds, Western Greysand Dama Wallabies, but also birds such as Blue-Winged Kookaburras. For DownUnder golf fans, sightings of Baddeleys, Applebys and Normans are not yet part of the tour.
Another Dawsonville landmark is Burt's Pumpkin Farm, featuring hayrides,homegrown popcorn and a selection of thousands of pumpkins weighing in froma pound to 150 pounds.
And, if you forgot to pack your traveling bags with anything, or need toreturn home with gifts of good will, it's a 15-minute ride to the NorthGeorgia Premium Outlet Mall, featuring 140 stores including Brooks Brothers,Saks Fifth Avenue, Nike, Hugo Boss and Williams-Sonoma.
For golfers who also like to experience an eclectic spice of life betweenrounds - did I mention the nearby river tubing, wineries and bluegrassfestivals - Gold Creek Resort surely can fit the bill.
Gold Creek Golf Resort
One Gold Creek Dr.
Dawsonville, GA 30534
800-966-2441
770-271-0050
Fax: 706-344-3400
May 12, 2003