It's In the Bag: Journeyman Protects Your Clubs While Traveling

You just bought a pricey set of Pings and you're ready to board an airline on your way to your favorite golf mecca. Your new clubs are bright, shiny and ready to take you to the promised land.
Little do you realize that when you place your set of golf clubs in a soft carry case and hand them to the airlines what might happen next. The clubs get dropped and along with the rest of the baggage, thrown on the conveyor belt only to be treated harshly on its way to the airplane.
Then they get unloaded from the plane, dropped in with the rest of the cargo to be transferred to the baggage claim conveyor belt, absorbing many bumps along the way.
And this is your set of pricey golf clubs that you adore, getting dropped, scuffed and mauled. Most major carriers (including American, United and Continental) accept liability for clubs that are damaged while being transported as baggage, provided they are packed in a golf carrying bag, be it hard-shelled or soft.
But there may be a trend arising where the airlines will no longer accept liability if your clubs are not protected by a hard-shelled case. For instance, Delta no longer accepts liability if your clubs are not in a hard-shell protected case.
That's why you can't go wrong with the Journeyman Golf Bag by Stone Legacy. The lightweight, high-density patented polyethylene InnerArmor is just the insurance policy you need to protect your valued set of clubs.
More than just a hard-shelled case, Journeyman is reinforced with heavy-duty nylon webbing edges for durability. This padding is lightweight and protects your clubs. Journeyman offers a padded cover that easily zips, clips and locks on (with padlock). You can lock your clubs in the bag and keep them protected for all of your travels.
Journeyman is available in three models: the original 7" JourneymanT, a 9" RollerBag with built in wheels for airport transit, and the 4" Micro that holds eight clubs and fits in airline overhead compartments. All models feature InnerArmorT throughout the bag and lockable padded cover, 1000 denier DuPont Cordura Plus nylon construction (in blue or black), roomy, lockable pockets and an exclusive 3-year warranty.
Prices for the JourneymanT models are: 7" Journeyman - $149.95, 9" RollerBag - $199.95, 4" Micro - $99.95. The Micro can carry up to eight clubs and can be carried onboard many airlines.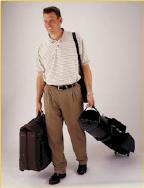 Journeyman is an innovative golf bag with a super-strong, lightweight core built into the bag's framework. For the traveling golfer, it's a bag and hard case in one. Journeyman's structurally engineered, high-density polyethylene InnerArmor core can withstand a static force of more than 1,000 pounds.
In fact, it's so strong you can literally drive over it with a golf cart and not damage the clubs inside. (I took a golf cart and drove over mine several times with clubs inside!)
Conventional golf bag travel cases provide protection, but they're bulky, heavy and difficult to pack (especially into the trunks of rental cars on golf vacations). Journeyman takes up no more space than a regular golf bag and makes golf traveling more convenient than ever.
In fact, the Rollerbag and Journeyman are fashionable enough to use as your actual golf bag. I like using the Journeyman as my golf bag because I now leave my clubs fully protected in my car. I can easily grab my clubs from the back of my car when I have half-hour to kill at a driving range.

When I travel, I want my clubs to be free from scuffs and scratches. Journeyman is a must-have for any golf traveler.
In short, Stone Legacy has designed a golf bag combining solid technology and a fashionable presence that gives golfers peace of mind at an affordable price. Before you subject your clubs to the rigors of airline travel, protect your investment with a Journeyman.
For more information or to place an order, call toll free 1-888-858-4826.