Book Review: Why Golf? The Mystery of the Game Revisited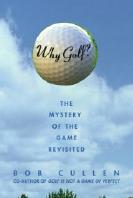 Why Golf? The Mystery of the Game Revisited
by Bob Cullen
www.whygolf.net
Published by Simon & Schuster
Price: $20.00
Every once in a while, golfers have to ask themselves, "Why in the world do I torture myself by playing this stupid game!" After the next great shot, most players forget they ever had such a thought.
Meanwhile, for those of us who are about to jump off a cliff or bury their clubs like the latest golf commercial, these golfers should rethink their rational for playing the game they once loved.
Bob Cullen, co-author of Golf Is Not A Game Of Perfect and Golf Is A Game Of Confidence with Dr. Bob Rotella, searches extensively to respond to a similar question. After being rudely reminded during a conversation with a friend that golf is not universally embraced, Bob sets out to explain why an intelligent person would play golf.
Though the book Why Golf? may not completely satisfy Bob's friend, it does lay out a unique perspective on why many people throughout the world play golf and why others simply refuse to.
Several sections of Bob Cullen's book contain a helpful technique of interviewing individuals over rounds of golf, giving an occasional detailed play by play of a hole, then relate how conversation's during these rounds or post round meals answer the question of why intelligent people would play golf.
This entertaining format draws in readers, enabling them to follow the twelve chapters of Why Golf? which don't always relate to one another. Despite the flow this format creates, the first two chapters, along with chapters entitled Plato and Tiger Woods and The Fellowship of the Links, are hard to finish unless you are an avid psychologist, Freudian, Darwinist, or lover of philosophy.
If I had to rate Why Golf? based upon whether it contained helpful tips on sports psychology, useful insight into trusting your golf swing, entertaining pieces on golf celebrities, and noteworthy details about historical moments in golf, I would give this book an A.
In fact, once this book is available on cassette tape, I recommend that future consumers skip the first 2 chapters and you will thoroughly enjoy what you hear. Bob Cullen's pieces on Dr. Bob Rotella, Jack Fleck, Ken Venturi, and David Oakley are like in-depth biography articles you might find in Golf Digest.
However, when it comes to answering the question, why would an intelligent person play golf, Bob comes up a little short. Now for his sake, I have not read The Mystery of Golf, written by Arnold Haultain in 1908.
When Bob's friend, a columnist for the Boston Globe, posed him this question, this was the only golf book that Bob Cullen had read which addressed his friend's question. Bob's research led him to the Library of Congress and later to trips throughout America, to Iran, and Scotland.
Bob Cullen's sources are excellent, but his sense of the average intelligent golfer may be somewhat skewed.
For example, Bob's first chapter entitled Why the Blind Baby Smiled tells the story of how a psychologist helped teach a blind baby to smile. After this useful illustration, Bob goes into detail about Dr. Lichtenberg's model of the psyche. Cullen concludes this discussion with what Dr. Lichtenberg calls the Ziegarnik Effect, "People want to keep going and finish what they start."
A generation ago this effect held true, but today many young people don't finish high school. Teenagers often get burned out from playing sports before they ever graduate due to overzealous parents or coaches. Kids who play video games almost always want to hit the reset button after they make an early mistake.
Even professionals at tour stops withdraw or on mini-tours no card after shooting poor scores! This Ziegarnik Effect is not a relative tool in my opinion, especially in today's society, to measure the satisfaction one receives from the structure that the game of golf provides.
Bob Cullen's take on why Ayatollahs and many Americans don't love golf is superb.
While Darwinist lovers will enjoy chapter 2, the average golfer will be scratching their heads after Bob Cullen's comments on page 35. After birding the first hole during a round with Bob Wright, author of The Moral Animal, Bob Cullen makes one of the strangest comments I have ever heard, even if he was in the presence of a brilliant Darwinist.
With words like, "I found myself thinking of prehistoric environments and natural selection" after making an opening birdie in my opinion is bizarre. This comment spoiled the entertaining flow upon which the second chapter had begun.
Further comments on why we should hate swamps, an alpha male illustration, and comparing prehistoric savannas to Clipped Grasslands lost my interest.
To further my view that Bob Cullen is not fully in touch with the average intelligent person is illustrated by the conclusion of chapter 6, Plato and Tiger Woods. During a press conference, Bob Cullen has the opportunity to ask Tiger Woods a question which has been on his mind for months.
In response to Bob's philosophical question about Plato's analogy of the caves, Tiger takes off his hat, places his fingers through his hair and says, "That's right over my head" - page 121.
Now, I realize Bob Cullen has a tough task of explaining why intelligent people play golf through philosophical theories and previous historical research. Nonetheless, how can an author try to help explain why intelligent people play golf when his questions are way over Tiger's head, a Stanford graduate.
Beside Ivy League schools, Stanford is one of the best universities in our country. In my mind, either Bob Cullen is sometimes too deep for his audience or he goes about answering the question of why intelligent people play golf in a non-cutting edge way.
I believe a majority of intelligent people have lost the desire to be philosophical or know why they do what they do because the only thing that counts in business today is the bottom line. Time, money, and self or family consume many Americans, leaving the age of philosophy in the past.

The Greeks use to meet in the local marketplaces to debate, listen, and ponder new ideas in their spare time. Meanwhile, in the e-commerce world of today, time is money, talk is cheap, and if you think too much you might miss out on the latest trend. Free time to think is becoming extinct like the dinosaurs which once ruled our planet.
To be fair with Bob Cullen, I will finish this review by examining how successful Bob was in convincing me, fellow golfers, and non-golfers why intelligent people would play golf. While I found 8 of the 12 chapters of Why Golf? to be entertaining, 3 chapters struck a cord with me: What I Learned From Bob Rotella, Twilight Golf and The Mulligan Boys.
Since I don't claim to be an expert on philosophy, the tone set by Bob Cullen in his third chapter, What I Learned From Bob Rotella, eased my own tensions about Why Golf? and re-engaged my interest. A quote by Curtis Strange saying he doesn't believe in that philosophy crap on page 45 helped crack a smile.
Meanwhile, Cullen's description of Dr. Rotella as one who points out paths, offers encouragement, and occasionally pushes golfers shed light on the columnist of Golf Digest whom I regularly enjoy. A later segment on freewill allowed me to come to grasp with why I might I have failed to be successful as a mini-tour player and Q-school participant.
Toward the end of Bob Cullen's book, the final two chapters brought me back to happier days as a child. My parents met at the University of Pennsylvania in Philadelphia. After graduating as a chemical engineer, my father went on to earn his MBA at the Warner School of Business.
While my father's resume shines light on his brilliance, the demands of his job kept him from spending much time with me as a child. I might not have experienced Twilight Golf in the sense that Bob Cullen describes in his chapter, but golf was introduced to me through a local driving range.
I would wack balls on Saturday afternoons, hitting dribblers, shanks, and hooks.
By the time I was 18, I was a self made 5 handicap. After taking several years off, consecutive great rounds at par and better led me to try the Tommy Armour Tour, the backdrop of the Mulligan Boys. Though Bob Cullen focused on players in their forties trying to prepare themselves for the PGA Senior Tour, this chapter brought back fond memories.
In essence, the combination of competition and playing golf on a quiet course under the setting sun is why I still play this game. I rarely come close to hitting that great shot which Cullen mentions in several chapters, but Bob was successful in describing some of the reasons why I play golf.
Through chapters entitled The Playing Field as Art, The Mechanics, and The Game as It Might Be, Bob strikes a common bond with those of us who love golf. Whether it is hitting the perfect shot, getting that feeling of confidence in your short game, or simply playing in the zone, these are all experiences that golfers pray for every round.
Besides the complete context of some historical events golf junkies will love absorbing, any golfer who plays a few rounds each season will be able to relate to at least one reason why they play golf.
For those of you who travel abroad to play this game, Bob Cullen entertains us with vivid descriptions of the culture and courses in Scotland and Iran. The later of the two sets the scene for the most unique angle I have ever heard, Why Ayatollahs Don't Love Golf. Obviously, the name of the chapter focuses solely on why Iranians don't play golf.
According to mullahs, only Koreans and Japanese played golf in Iran at the Enghelab Sports Complex, the only course in Iran. However, since the revolution of 1979, golf is dying a slow death as portions of the course have been sold. Complete holes are being sold to real estate companies every few years, a process many American contractors wish they could copy. Now, there are only 13 holes remaining.
Of all of his chapters, Bob Cullen's take on why Ayatollahs and many Americans don't love golf is superb. Simply stating on page 162, "to sixty million Iranians golf is hitting a ball into a hole with a stick."
Sound familiar, many of my non-golfing friends accuse me of chasing a little white ball over 5 miles or so. This is by far the most convincing chapter in answering the question, "Why an intelligent person would not play golf?"
Bob's simple answer is a great note to end my review of Why Golf? Whether you are an American, Iranian, or Scot, millions of people each year will try to be like Tiger Woods on their local golf course. You might not stop to analyze why you play this game, but one thing is certain. Golf will continue to torture souls, break hearts, and drive millions of people crazy!
For further information contact Newman Communications at (617)-254-4500.